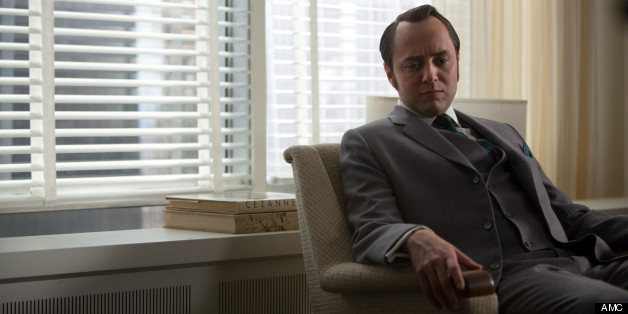 Who better than Vincent Kartheiser himself to explain what was going through Pete Campbell's mind as Bob Benson rubbed knees with him in "Favors," the latest episode of "Mad Men." Did Pete's uncharacteristically calm reaction mean that he might be open to spending some quality time with "Mad Men's" man of mystery?
Kartheiser spoke about the episode in an interview with Vulture's Denise Martin, and offered his always-unique perspective on the scene.
"This is not something that [Pete] foresaw. It's not an ongoing issue. This is a moment that happened out of the blue, and if it's ever happened to you, and I don't know if it has, but if it's ever happened to you, if someone of the same sex that you didn't recognize had those feelings toward you, and then all of a sudden that happens, there's just a moment where it sets in.

Now, you also have to understand the reason he didn't explode is because Bob is bigger than him and stronger than him, and Pete last season got his ass kicked by someone who wasn't as big or as strong as Bob. Matthew's allowed his characters to learn ... To scream at or attack someone like Bob, who has a lot to lose in this situation, may open Pete Campbell up to a broken jaw or a black eye.

Also, Pete's not quite aware when it first happens that that's what it is. It's not like Bob tried to kiss him, so he's being subtle. He's being slight with it, you know, because he doesn't quite know that that's what it means."
"Mad Men" creator Matthew Weiner offered his take on the scene in a behind-the-scenes video from AMC. "Bob Benson is an ambitious person that we've seen, to comic effect, using everything he can to climb. But one of the things we know is that he has gone out of his way to take care of Pete. I don't know that Bob is necessarily gay, but I think he is infatuated with Pete and wants to be Pete and I don't think Pete is horrified or shocked, but he's now in a situation in business where someone has really infiltrated his life … What I wanted to say was there's this pure expression of love and who doesn't need love and Bob is offering that to Pete and Pete is so needy at this point, so alone, but I think we get a sense of catastrophic results of expressing your real feelings."
Kartheiser and Weiner's comments seem to indicate that Pete and Bob won't be engaging in a "Brokeback Mad Men" hookup anytime soon. But then again, there's also this gem of a Kartheiser quote from a recent interview with "Women's Wear Daily," before "Favors" aired.
Describing the juxtaposition between Pete's rigid manner of speaking and his inherent sleaziness, Kartheiser painted a vivid visual picture. "He's this very straight-backed and well-spoken man who, under the table, has no pants on and is kicking the guy next to him."
No pants on? Kicking the guy next to him? Hmm ...
Check out Karthesier's full interview with Vulture here.

Will Pete and Bob hook up on "Mad Men"? Leave your thoughts and theories in the comments.
"Mad Men" airs Sunday nights at 10 p.m. ET on AMC.
PHOTO GALLERY
"Mad Men" Season 6 and 7
BEFORE YOU GO