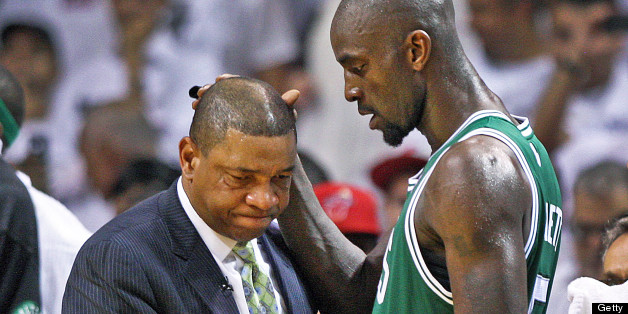 The Los Angeles Clippers may be going green.
The Clippers and Celtics are negotiating a blockbuster trade that could include send Doc Rivers and Kevin Garnett to Los Angeles while shipping DeAndre Jordan to Boston, according to Adrian Wojnarowski of Yahoo! Sports. Citing unnamed league sources, Wojnarowski reported on Saturday that the teams are "deep in discussions" and that an eventual deal could also involve L.A. giving up draft picks and point guard Eric Bledsoe.
An unnamed source also discussed the negotiations with the Boston Globe, noting that the Celtics' focus has shifted from keeping Rivers.
"Danny (Ainge) would still like Doc to coach and would still like to make that happen," the source told the Globe, "but there's more focus right now on looking at other options."
These reports come just days after Chris Broussard of ESPN reported that Rivers may be looking for something different after nine seasons in Boston.
"Doc loves coaching," the unnamed source told ESPN. "He loves coaching in Boston. But he feels it may be time for a change."
In February, the Clippers reportedly attempted to acquire Garnett before the NBA's trade deadline. As reported by Wojnarowski at the time, the Clippers were willing to ship Jordan and Bledsoe to Boston at that time.
The Clippers parted ways with coach Vinny Del Negro after the team was eliminated from the NBA Playoffs in the first round by the Memphis Grizzlies.
On Friday, the Boston Herald reported that Del Negro would get "serious consideration" to take over in Boston should Rivers depart.
BEFORE YOU GO
PHOTO GALLERY
101 NBA Posterizations