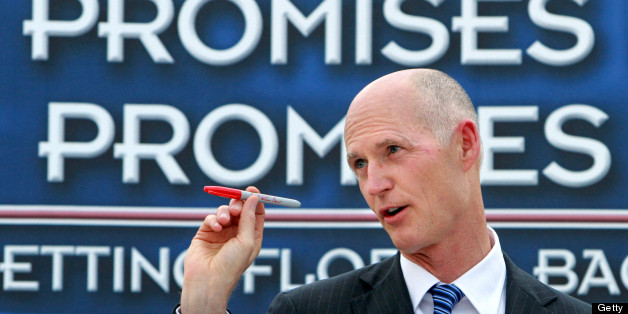 Despite letters from Gloria Steinem and strollers full of petitions left at his Tallahassee office, Rick Scott signed a law overriding any earned sick leave ordinances on the local level on Friday.
Critics see the controversial legislation as underscoring Scott's commitment to corporate special interests -- the bill was backed by Walt Disney and Olive Garden parent company -- as well as his apathy towards Florida's working families.
"The fact that Rick Scott signed this anti-middle class, anti-family bill into law, then jumped on a plane to France, proves that the governor of Florida does not care about working middle class families and he knows how unpopular and damaging this bill is," Amy Ritter of Florida Watch Action told the Orlando Sentinel.
Supporters believed the bill would stabilize the state's business environment, uniting a patchwork of sick leave laws that could vary county to county.
Yet critics believe the law unfairly targets minorities, who often hold the jobs without paid leave, and women, who are often responsible for taking time off work to care for sick family members.
"By signing HB 655 Governor Scott shows once again he is beholden to Big Business (Disney, Darden) at any cost, even at the expense of women, children, workers, and those falling behind. The inequity of wealth in Florida just widened even more today and the real possibility of quality of life enhancements for the people of Florida vanished by a stroke of the pen by a heartless and uncaring man," Fred Frost, Chairman, Miami Dade County Coalition for Healthy Families and Workplaces, said in release.
A recent poll revealed that 80 percent of Floridians support earned sick leave.
The same poll found that over half of respondents do not trust the Florida legislature to make the right decisions for local communities and middle-class families.

BEFORE YOU GO
PHOTO GALLERY
Rick Scott Controversies