A former employee of a restaurant in Crested Butte, Colo. has a bone to pick with her erstwhile boss.
In a letter to the editor of the Crested Butte News, Maura Jane Roche slams her former boss, restaurant owner Peter Maxwell, for writing into the paper to complain about the work ethic of his employees.
"In your letter to the paper last week you made a huge generalization on an entire generation of people," Roche writes. "Your letter is especially offensive to those who currently work for you, as well as those who have worked for you in the past. Respectable employers value their employees, they acknowledge their workers as the foundation of a successful business."
Roche says she received her final four paychecks from Maxwell nine months after leaving the job -- and when those paychecks finally came, she was told she was not owed any compensation.
"Apparently, you think that this is appropriate-- well it's not," she writes. "Your employees should be paid in full and on time."
Roche also claims Maxwell charged employees for credit card transaction fees-- a growing restaurant industry practice that has drawn complaints from hospitality workers' unions.
"By nickel and diming employees, well, that speaks novels about an employer," she writes.
Maxwell, in addition to his Crested Butte News letter, recently spoke to the Gunnison Country Times about his gripes with his employees.
"When we first opened in 2009, I had realtors, I had people that used to be managers coming in and working for me," he said. "Now, some of the quality of people (applying for jobs) has gone down."
In her letter, Roche said it's fine for employers like Maxwell to hold high standards, so long as they hold themselves to the same benchmarks.
"Like you said in your letter, there is nothing wrong with expecting hard work from an employee. I'd like to add there is nothing wrong with expecting an honest and respectful employer," Roche writes in closing. "Only a responsible employer can demand responsible employees."
Read Roche's full letter below: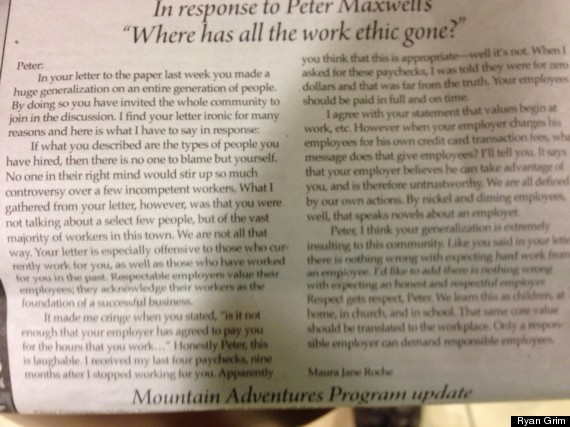 BEFORE YOU GO
PHOTO GALLERY
10 Most Stressful Jobs 2012