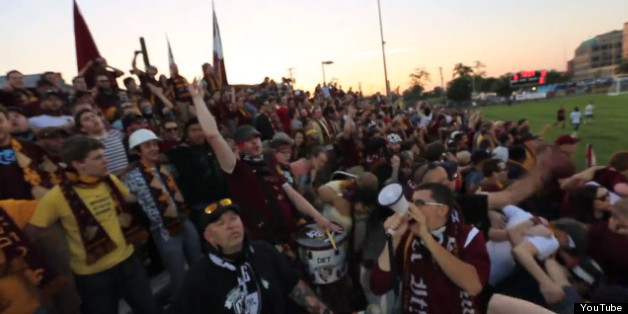 Between this tease of a summer and the constant, imminent threat of the largest municipal bankruptcy in history, you could say we Detroiters have plenty to gripe about.
Instead, this week, we found so many examples of life and exuberance in the city. Two new businesses locating within the borders of Eight Mile Road turning out world-class merchandise with handmade touches. A Detroit dance troupe's take on the jit was one of our favorite detours this week, along with the spirited, passionate fans leading cheers at Detroit City FC.
You can default us, but you can't take away our spirit (though to learn more about Detroit's financial crisis, we recommend the included PBS video featuring Detroit Free Press Reporter Matt Helms). That was the subject of the (NSFW) techno track "Detroit Calling," in which a narrator theorizes the birth of techno with the city's poverty. Watching hundreds of singing Detroit City FC Northern Guard supporters sway the soccer stands in unison, we argue this city still isn't bankrupt in passion.
Berry Gordy, mid-century modern Michigan architecture, one hungry bird and Grace Boggs all make cameos in this week's edition of Detroit's Best Photos & Video. And as always, you can, too! Send us links or attachments of your favorite images and videos to the HuffPost Detroit editors. We'll make sure to tip our hats to you, our readers out there pounding the pavement.
Keep going,
HuffPost Detroit
PHOTO GALLERY
Best Of Photos And Video In Detroit This Week