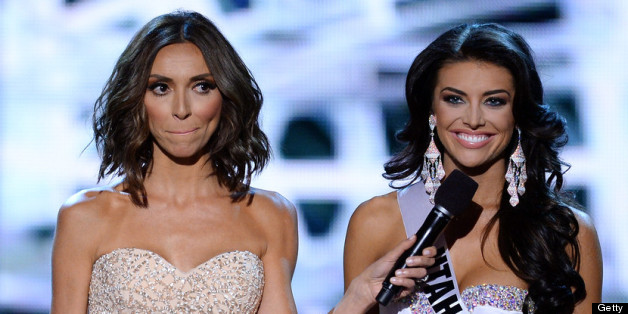 A lot has been made about the less-than-eloquent answer Marissa Powell, aka Miss Utah, gave to her question at this weekend's Miss USA pageant, but why? Who among us hasn't said something either artless or downright stupid when in a stressful situation? Besides, according to our count, there are at least 10 worse things than flubbing a convoluted question posed by Nene.
Here they are, in no particular order:
1. Nene from "Real Housewives" asking a women's issues question:

2. Giuliana's smug look:


Image courtesy of Getty
3. The tagline "Confidently Beautiful":

4. Whatever this expression is:

5. Anyone who says, "Having a perfect summer tan is VERY important to me":
6. Mo Rocca judging this atrocity... say it ain't MO!


Image courtesy of Getty
7. These people's spelling skills:

8. Being this close to that:


Image courtesy of Getty
9. A pageant that doesn't require the contestants to have a talent or charity:

10. And while we're at it, pageants... all of them: