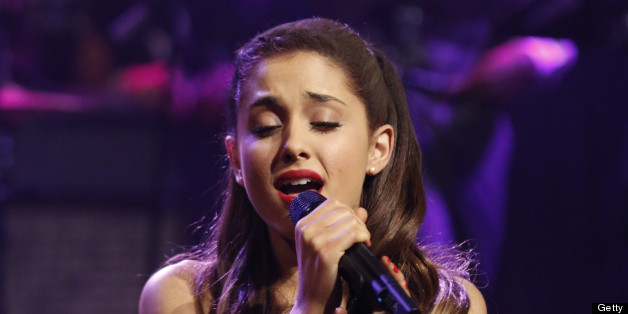 Ariana Grande is a quickly rising star, as her role on Nickelodeon's "Victorious" was recently expanded to the spinoff "Sam & Cat." And of course, her single "The Way" became a massive hit, racking up over 45 million views on YouTube since its debut in March. Unfortunately, over this rise to fame, Grande, 19, has dealt with many accusations of an eating disorder due to a fairly steady weight loss since her first moments in the limelight. To dispel these rumors, Grande took to her personal Tumblr and wrote out a long, heartfelt seeming note that attempted to dissuade her critics.
Mostly she attributes the weight loss to eating much better and working out on a daily basis.
This is about making sure the foods you put in your body will nourish you and be put to good use. The reason why I lost as much weight as I did is because I used to live on junk food. Like around the clock. So I drastically changed my eating habits, started exercising daily and I'm all around a healthier me. I'm eating as much as I was before just the content has changed.
She also goes on to talk about her own religious beliefs; in her words she has "always been a little bit of everything when it comes to religion."
BEFORE YOU GO
PHOTO GALLERY
Guess The Celebrity Kid In Halloween Costumes