During early space exploration programs like Project Mercury and the iconic Apollo missions, astronauts were American rock stars. Behind these men stood a group of incredible women who rallied together as their husbands embarked on death-defying journeys to the moon and back.
Transformed from military spouses into American royalty, these women are the subject of Lily Koppel's new book, 'The Astronaut Wives Club.' Wives Jane Dreyfus, Sue Bean, Barbara Cernan Butler and Koppel joined host Ricky Camilleri to share their stories in a segment on HuffPost Live.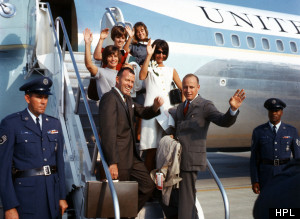 Juggling the pressures of everyday life along with the stress of being a spouse to an astronaut was often difficult, occasionally glamorous and sometimes lonely.
Speaking about raising a family while her husband was on flights, Bean said, "You did what you had to do. You concentrated on your family, your children and getting them to school, whatever activities they were involved in -- Girl Scouts, baseball. They missed their dad, but he did what he could do when he was home to be their dad."
The wives shared images from that time period and reflected on the deep bonds that they forged.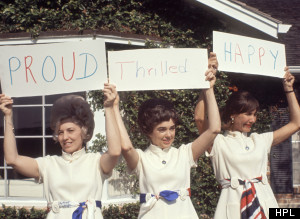 "In the long run, we've all become a lot closer because we can share everything, we don't hold anything back anymore," Cernan Butler said. "They're like my sisters -- I love them."