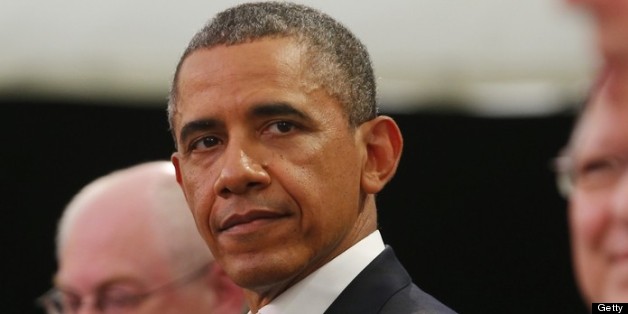 Obama's approval rating has declined since May but not nearly as much as implied by a new CNN poll. Americans are just as opposed to military aid to the Syrian rebels now as they were before Friday. And pie charts still suck. This is the HuffPost Pollster update for Monday, June 17, 2013.
OBAMA APPROVAL FALLS ON CNN POLL - A new national poll from CNN/ORC shows "President Barack Obama's approval rating dropped eight percentage points over the past month...The president's approval rating stands at 45%, down from 53% in mid-May. And 54% say they disapprove of how Obama's handling his job, up nine points from last month. It's the first time in CNN polling since November 2011 that a majority of Americans have had a negative view of the president." [CNN]
Obama's approval has been declining... - Obama's job approval ratings have been drifting steadily downward since January, eliminating the gains that occurred during the fall reelection campaign and just before the inauguration. The Pollster chart's estimate of Obama's approval rating, based on all public polls, stands at 46.7 percent as of this writing, just slightly higher than the 46.4 percent recorded in early July 2012. [Pollster]
...But other polls do not show as steep a decline as CNN - The issue is mostly that CNN's prior survey, showing Obama's approval at 53 percent, was something of an outlier. Of 36 other polls logged in May, none except CNN had Obama's approval higher than 51 percent. [Pollster]
Obama's approval is down since May - Four other pollsters -- Gallup, Rasmussen Reports, Fox News and Economist/YouGov -- have tracked Obama's approval since the NSA revelations were first published in June 6. When compared to their prior surveys in May, the other organizations all showed declines in approval of 1 to 2 percentage points (averaging -1.7 points), and two of four showed slight increases in disapproval (averaging +0.8). None show anywhere near the dramatic pattern of the two CNN surveys.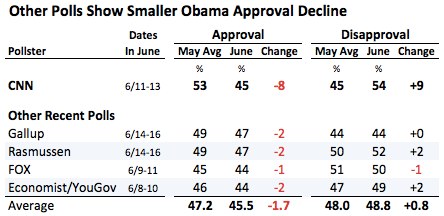 Reactions from Twitter:
-The Guardian's Harry Enten: "Dear all media organizations: really isn't a bad thing to cite an average or other company's polls. Really it's not." [@ForecasterEnten]
-Political scientist Brendan Nyhan: [Obama's approval] might be drifting down a bit - but no evidence to support a swing of eight points. [@BrendanNyhan]
-Republican pollster Glen Bolger: "Like to see big data moves in two polls before proclaiming it real, but given Obama's recent probs, the @CNNPolitics suggests a big problem." [@POSGlen]
-The Washington Post's Greg Sargent: "Odd thing about CNN poll: Obama approval down 8 points, but majorities approve of the NSA programs" [@ThePlumLineGS]
-Republican pollster Steve Lombardo: "It is interesting that the headlines a few weeks ago after polls showed Obama approval stable - saying POTUS 'unaffected' by scandals ...Now of course Obama poll rating in 'free fall'. Neither true...The reality is that #Obama has had a rough 60 days and as long as this narrative continues, we will see a rising disapproval rating." [@SteveLombardo in three tweets]
TWO POLLS SHOW OPPOSITION TO SYRIAN WEAPONS - The Pew Research Center: "Last Thursday's announcement that the U.S. would aid the rebels has not increased public support for action, and majorities of all partisan groups are opposed. Overall, 70% oppose the U.S. and its allies sending arms and military supplies to anti-government groups in Syria; just 20% favor this. Opinion is little changed from December of last year (24% favor) and support is down slightly from March, 2012 (29% favor)." [Pew Research]
Gallup finds similar result - "The slight majority of Americans -- 54% -- disapprove of the Obama administration's decision to send direct military aid to Syrian rebels fighting against the Syrian government, while 37% approve. Those who are following the situation in Syria closely -- about half of the public -- are significantly more likely to approve of the decision than are those who are not following the situation closely, although a majority of both groups disapprove." [Gallup]
AMERICANS DIFFER WIDELY ON WHAT NSA WAS DOING - HuffPost's Emily Swanson on finding from a new HuffPost/YouGov poll: "The poll shows that many Americans think the NSA's surveillance programs go beyond what President Barack Obama and other defenders of the programs have said that they entail. Thirty-eight percent of respondents said they believe the NSA programs include the ability to listen to any American's phone calls without a warrant -- almost as many as the combined 41 percent who said either that the NSA only listens to phone calls between Americans and foreigners (15 percent) or that the NSA doesn't listen to any American's phone calls without a warrant (26 percent). Forty-two percent said that they believe the NSA programs include reading any American's emails without a warrant, compared to only a combined 33 percent who said the NSA reads emails between Americans and foreigners (15 percent) or that it can't read any American's emails without a warrant (18 percent)." [HuffPost]
USA Today/Pew Research poll finds similar results - "A majority of Americans (54%) think the U.S. government has collected data about their phone or online communications; 39% say it has probably not. When asked how they would feel if they knew that the federal government had collected data about their phone and internet activity, 63% say they would feel that their personal privacy has been violated." [Pew Research]
POLLSTER UPDATE VIA EMAIL! - You can receive this daily update every weekday via email! Just enter your email address in the box on the upper right corner of this page, and click "sign up." That's all there is to it (and you can unsubscribe anytime). The Pollster Updates will continue to publish online, but if you'd prefer the convenience of email, it's just one click away.
MONDAY'S 'OUTLIERS' - Links to more news at the intersection of polling, politics and political data:
-In Massachusetts, Boston Globe/UNH shows Markey leading Gomez, 54 to 41 percent. [Boston Globe]
-Nate Silver rates the odds of a Gomez upset as slim. [NYTimes]
-In New York, Andrew Cuomo's favorable rating falls...to 58 percent. [Siena]
-Greg Dworkin reviews what polling does and does not tell us about public reactions to the NSA revelations. [DailyKos]
-Nate Silver now believes the NSA story may hurt Obama...with Democrats. [NYTimes]
-Dan Hopkins finds new evidence that Latino voters grew less likely to support Republicans between 2008 and 2012. [WaPost]
-Carl Bialik reports that some statisticians and security experts say the NSA data collection program is "highly inefficient and has some serious downsides." [WSJ]
-In almost all sectors of the news media, stories supportive of same-sex marriage outnumbered those in opposition over the last three months. [Pew Journalism Project]
-Dictionary of Numbers puts numbers into context with a Chrome browser plug-in. [xkcd]
-PPP is polling on animals and pets. [PPP]
-Walter Hickey explains why pie charts are useless. [Business Insider]
-Kevin Collins reminds us of one perfectly acceptable type of pie chart [@KevinCollins]
BEFORE YOU GO
PHOTO GALLERY
Most Iconic Photos Of Obama's First Term