The Hollywood Sign. The Walt Disney Concert Hall. The TCL Chinese Theater. The "Urban Lights" installation at LACMA.
These are just a few of Los Angeles' most iconic images (and photo opportunities) for residents and tourists alike. Now, thanks to the Los Angeles Chinatown Corp. and the Bruce Lee Foundation, photographers have another must-snap destination: the Bruce Lee statue in Chinatown.
The 7-foot bronze statue made its debut Saturday evening and is the first statue of its kind commemorating Lee in the United States, reports the Los Angeles Times. In addition to celebrating Bruce Lee's legacy in Hollywood films and the local impact he had in Los Angeles, the statue also commemorates the 75th anniversary of LA's Chinatown and the 40th anniversary of his death.
Lee's daughter Shannon Lee, president of the Bruce Lee Foundation, was on hand to celebrate the unveiling.
"Seeing it there in its permanent spot with the night sky of Chinatown ... it really struck me," said Shannon Lee to the Times.
The bronze statue depicts Bruce Lee holding a pair of nunchucks in his right hand and underneath his arm. His left hand is extended in a martial arts pose. In the photo below, Min Cheung of West Covina, Calif. struck a similar pose for a photo taken by Getty Images on Sunday.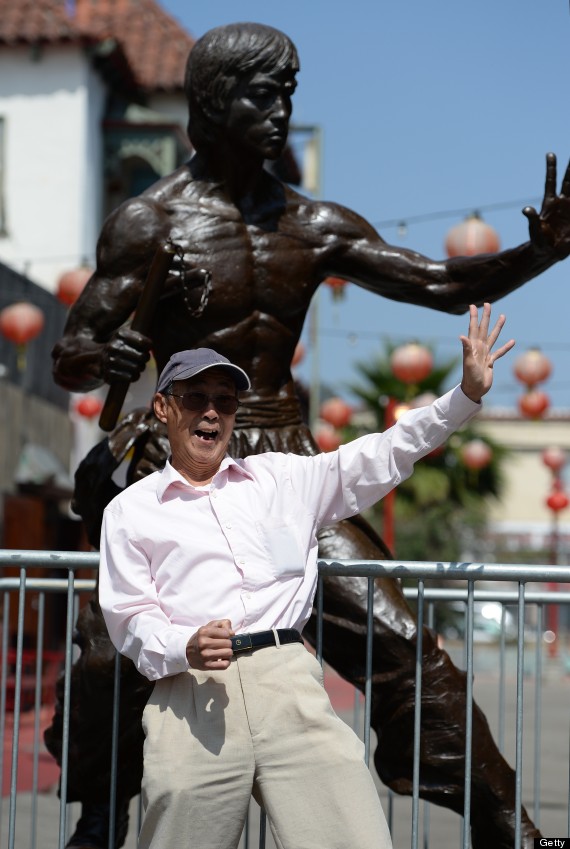 Photo by Robyn Beck/AFP/Getty Images.
Business leaders still need to raise $150,000 to permanently install the statue in Chinatown's Central Plaza. To learn more about the project, check out chinatownla.com.
See more photos of the statue in the slideshow below.
PHOTO GALLERY
Bruce Lee Statue In Chinatown
BEFORE YOU GO
To bolster your knowledge about Chinese-American figures in Hollywood, Jenny Cho shared 5 fun facts from her book Chinese In Hollywood. Check them out in the slideshow below.
PHOTO GALLERY
5 Things You Didn't Know About Chinese Influence In Hollywood