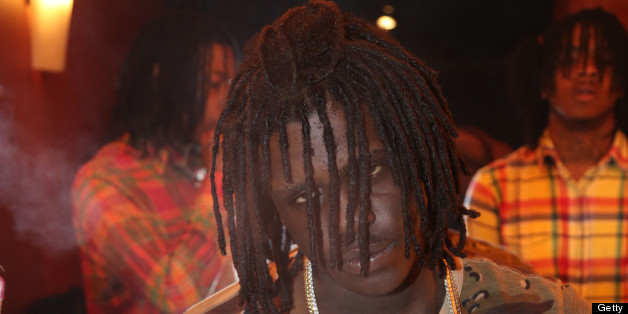 Chicago rapper Keith Cozart, better known as Chief Keef, has been arrested for the third time in less than three months.
The 17-year-old's most recent arrest came Monday afternoon in suburban Skokie just moments after he pleaded guilty to driving his 2011 BMW 110 mph in a 55 mph zone on the Edens Expressway last month.
Officials tell the Tribune Cozart was just blocks from the Skokie courthouse when he was arrested by Chicago police officers on a misdemeanor trespassing charge and taken to the Grand Crossing District station on the South Side.
Cozart's lawyer, Leah Starkman, told the paper, "He's still being processed," she said. "I haven't seen the paperwork."
Prior to his Monday arrest, DNAinfo Chicago reports the rapper was ordered to stop driving and to submit to random drug tests. Cozart was also sentenced to 18 months conditional discharge, eight hours of traffic safety school and told to do 60 hours of community service, prosecutors said.
Cozart's camp has already hit back against police following his arrest: In a statement to hip hip website Fake Shore Drive, Cozart's reps said six CPD officers used "excessive force" when arresting the "compliant" rapper and as of early Monday evening, will still holding him.
As if Cozart's troubles couldn't get worse, in between pleading guilty to driving 40 miles over the speed limit — a Class A misdemeanor — and the trespassing charge, the rapper was also served with a paternity lawsuit — his second — filed a week ago in Cook County Circuit Court, the Sun-Times reports.
The plaintiff, 29-year-old Erica Early, claims Cozart fathered her daughter, born on Jan. 28. The next hearing in the case is on Aug. 26.
The rapper's first arrest after being released from juvenile detention in March for violating probation on a weapons conviction came in late May; the teen was taken into custody in suburban Atlanta and charged with disorderly conduct.
BEFORE YOU GO
PHOTO GALLERY
Celebrity Mugshots