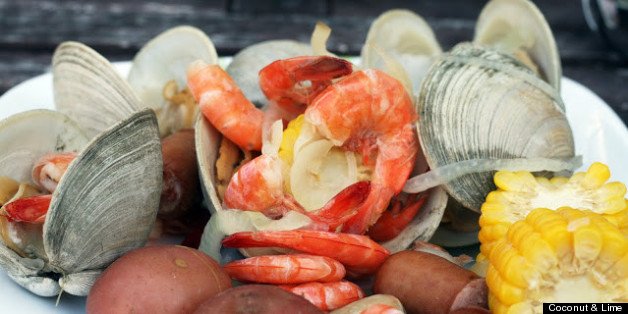 Almost all Fourth of July celebrations involve the grill. And you can almost bet your life on the fact that hamburgers and hotdogs will be on the menu. They always are. It's not that we have anything against these traditional options, but this year we're pushing for a different American classic to celebrate our great nation: a clambake.
Clambakes are a typical New England summertime dish -- and they're nothing short of awesome. For those of you who don't live anywhere near the coast and are new to clambakes, let us explain. Clambakes are a beach cookout where potatoes, corn, sausage and, of course, clams are baked in a fire pit built right into the sand.
And while, yes, clambakes do normally require a beach, it's absolutely, positively just not necessary. You don't even need to be remotely near an ocean. If you have a grill -- or access to one -- you can clambake from a rooftop patio right in the middle of New York City or deep in the suburbs of the Midwest with not a body of water in sight. All you really need are clams -- lots of them (and a few other amazing accoutrements).
Here's what you'll need for a basic clambake on the grill:
Supplies
Grill
18-inch roasting pan or a large stockpot
Foil
Ingredients (please see below for ideas on additions to make your clambake even better)
serves 8-10
1 pound andouille sausage, sliced into half-inch pieces
6 ears of corn, husked and broken into thirds or quarters
2 pounds small new potatoes, scrubbed clean and cut in half if not very small
4 pounds clams, cleaned
Beer or water, for boiling
Preheat the grill. Prepare the clams. Line the roasting pan or large pot with potatoes and sausage. Top with about 4 cups of water or beer and cover with foil. Close the grill and allow to come to boil and cook for about 15 minutes or until the potatoes have become tender.
Once the potatoes are tender, add the clams, your seasoning of choice, corn and cook until the clams open up and the corn is cooked through. Serve immediately onto tables lined with newspaper, along with melted butter and lots of Old Bay seasoning at the ready.
If you'd like to take your clambake to the next level, consider adding shrimp or even lobster. Of course you'll need a little more beer or water to accomodate for the extra ingredients. Also, don't be shy with the seasoning. Lemon and Old Bay are always a good idea when it comes to seafood. But garlic, fresh herbs and even celery can add great flavor too. Food blogger Coconut & Lime has a great recipe that uses shrimp and fennel. Check out her recipe here.
Want to read more from HuffPost Taste? Follow us on Twitter, Facebook, Pinterest and Tumblr.
Look no further for more clam recipes.
PHOTO GALLERY
Clam Recipes
This story appears in the special July 4 issue of our weekly iPad magazine, Huffington, in the iTunes App store, available Friday, June 28.