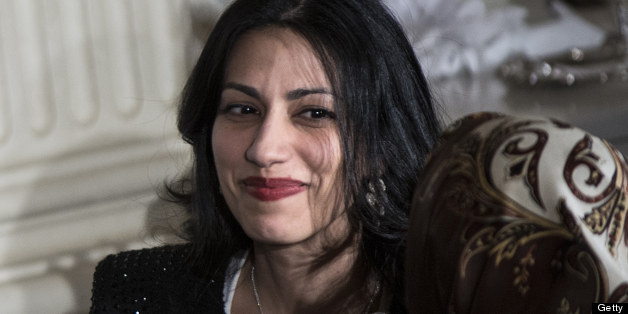 Anthony Weiner, whose young son joined him Sunday on the campaign trail for the first time since the former congressman announced his mayoral bid, said his wife, Huma Abedin, a Hillary Clinton aide, will soon stump on his behalf.
"She's very busy," he said. "She'll be out soon enough."
He brought his son, Jordan, 18 months, and his father, Morton, Sunday to a street festival in Park Slope, Brooklyn, to urge voters to sign petitions putting Weiner on the ballot. Weiner grew up in Park Slope.
Weiner said Jordan, wearing a straw fedora and enjoying bites of crepe, was out with him because, "It's my day to watch him, and plus, it's Father's Day."
Abedin and Jordan appeared in a video last month announcing Weiner's attempt at being elected mayor after a sexting scandal two years ago, but Weiner has since been campaigning without them at his side.
Abedin, the notoriously press-shy director of Clinton's transition team, is the target of a probe initiated by Sen. Chuck Grassley (R-Iowa) into possible conflict between her work for the State Department and her private consulting, Politico reported.
"He's got a right to ask what he'd like," Weiner said Sunday of Grassley. "Huma has practically the most documented life in America. . . . We've got very transparent financial lives."
He said his family is willing to answer any questions Grassley has, but that most queries should be directed to the State Department. He defended Abedin's work broadly: "I'm very proud of her service and she's certainly done everything as she's supposed to."
Weiner, 48, a Democrat, fielded questions and comments Sunday from voters on the MTA, calling Republican mayoral rival Joe Lhota the former state-appointed "lord governor" of the agency; on hydraulic fracturing, or fracking; on union contract negotiations; and on other topics.
He received several wishes of "good luck" from passers-by, though one woman pulled her daughter away from the crowd. "Let's get away from him. Horrible man," she said.
He met a former student of his mother's, a retired high school math teacher. Asked when Weiner and his mother, Frances, have in common, Myrna Tirado, 25, of Park Slope, replied, "They're very tough and very determined." ___
BEFORE YOU GO
PHOTO GALLERY
2013 NYC Mayoral Candidates