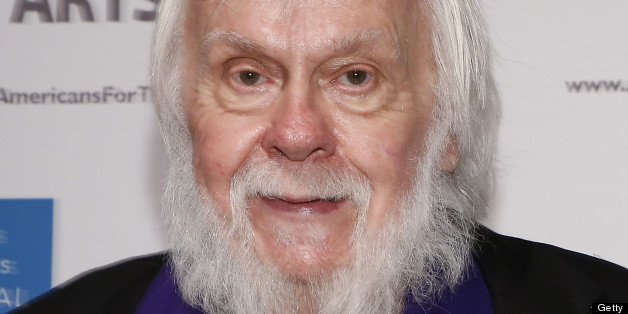 Today marks the 82nd birthday of one of the cleverest, tallest and most wonderfully bearded artists we know, John Baldessari.
The towering 6'7" artist was born and raised in California, eventually studying and teaching art at a variety of notable local schools including Berkeley, UCSD, UCLA and CalArts, where joint rolling was apparently offered as a course. Baldessari's students included some of our favorite provocateurs such as David Salle, Jack Goldstein and Mike Kelley.
His early works explored the ways text and image could intersect, painting statements pulled from art theory onto otherwise empty canvases. Through cropping, isolating and re-appropriating snippets of language we see the deep possibilities lurking in a humble joke or the utter emptiness of a lofty theoretical text. In other words, the artist can combine Claude Lévi-Strauss' structuralism with a cheap pun and make it work.
Baldessari was never afraid of taking chances and starting over. In 1970, he got tired of his text-centric trajectory and burned all of his works from 1953 until 1967, baking the ashes into cookies. This destructive performance piece was titled "The Cremation Project."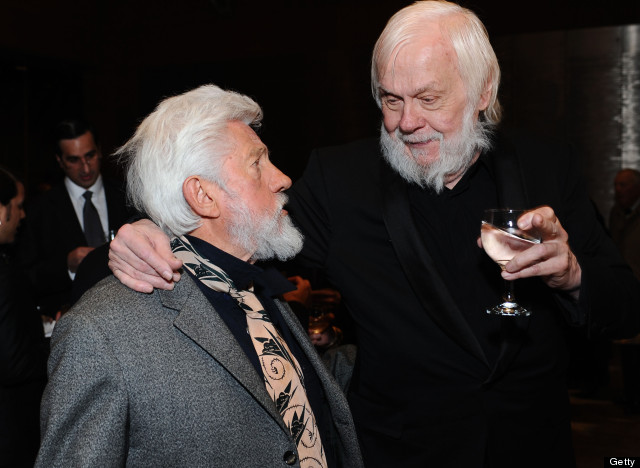 LOS ANGELES, CA - NOVEMBER 12: Artists Ed Moses (L) and John Baldessari attend 2011 MOCA Gala, An Artist's Life Manifesto, Directed by Marina Abramovic at MOCA Grand Avenue on November 12, 2011 in Los Angeles, California. (Photo by Stefanie Keenan/Getty Images for MOCA)
But who is Baldessari without his dots? Newsworthy moments morph into strange and singular experiences when the faces are removed by the artist's playful hand. In an NPR interview, LACMA director Michael Gocan explained: "Sometimes he takes away the thing that's most obvious in the center of your vision, forces you to look at everything else, almost for the first time, to make new sense of what you're seeing."
We truly believe the thoughtful art prankster when he says "art should be fun."
In honor of Baldessari's big day, we've revamped some of art history's most well-recognized faces using his tried-and-true method. Let us know your thoughts in the comments.
PHOTO GALLERY
Baldessari Art History