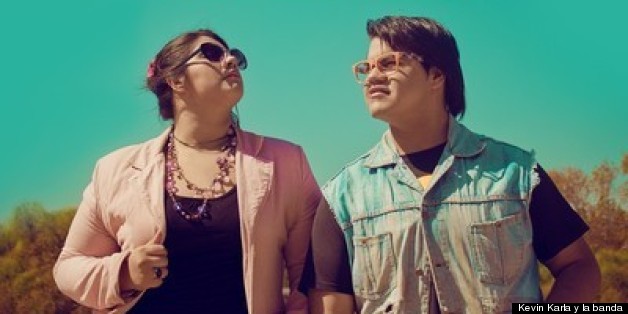 The biggest stars in the world bring us our most listened to songs. Popular artists like Rihanna and Justin Bieber are some of the world's most popular musicians. But, did you ever wondered what their songs would sound like…in Spanish?
I'm bilingual, and I know many of you out there are also. Have you ever been curious to listen to those same songs you already love but in another language that you also understand. We all know it's hard to translate music into different languages and still be able to keep the same feeling to it. Let's face it not everything is translatable across languages.
But one music group has managed to do just that, and they've done it very well.
Let me introduce you to a Chilean brother/sister music duo, Kevin, Karla & La Banda. This music duo loves to make Spanish language covers of some of the most popular music out there.
The Chilean music duo
Kevin Ricardo Vasquez Villanuevais a Chilean singer, television actor, composer and music producer. His musical and acting career began at the age of 13 in 2007, getting one of the role of "Kevin Galvez" in the hit television series 'Amango.'
From late 2009 until early 2011, Kevin, sought refuge in music composing and learning to produce, being one of the youngest producers in Chile. He created Kevin, Karla & La Banda with his sister Karla Vasquez (star of the Teleserie Gordis), having success online with their covers in Spanish, reaching nearly 5 million views a month.
After almost two years off the TV, in January 2011, signing with Chilevisión to be part of the successful youth program, Ying, was the winner of a car in the War of the Sexes season.
Shortly after, Kevin left 'Ying' to devote his time 100% to his passion: Writing, composing and producing music.
His most recent work as author, composer, arranger and music producer, have been working for EYCI & Cody being responsible for "Here with me"
(Song Ranking No. 1 Radio Station Musical "Hit 40″) and Rachel Calderon producing "Walk Away", docureality Central Theme "the Argandoña".
Kevin's sister Karla started at age 12, where she began appearing at casting calls for a spot on a children's television program, where although at that time were scarce, she was selected in two of them. (Bravo Bravissimo, Good Morning to All and With You). Then at age 18, traveled to Buenos Aires, Argentina to perform in the program Latin American Idol.
Karla then began to work with her brother Kevin, on his musical projects, and they started to develop as writers, composers and performers. Thus was born "Kevin, Karla and Band", who is generally are characterized by their cover of international artists, translated into Spanish, being the most listened to young Chileans online (Youtube) in Chile and Latin America, with about 5 million visits.
These two siblings make up the duo that is changing the sound to many of the world's most popular songs, not just translating them but adding a Latin flare to their beats.
Listen to a few of their Spanish remakes:
Originally published on VOXXI as Chilean music duo do Spanish covers to popular English songs
BEFORE YOU GO
PHOTO GALLERY
Celebrities Wish Us A "Feliz Navidad"