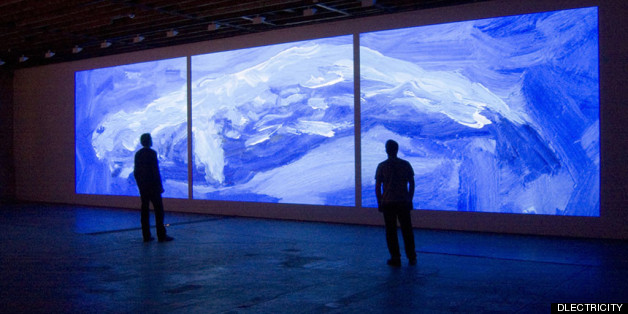 Guitars made of reclaimed lumber from the city's homes. A Detroit photography archive. Afrofuturist lectures. A "Hyper-Interactive Hip-Hop Mardi Gras Parade." Preserving the legacy of the jit. Paper-making workshops sourcing invasive plants. A performance bridging modern dance and the history of the factory assembly line.
The finalists selected for a new arts competition has shown just how wildly imaginative and inventive Detroiters can be when given the opportunity, and the Knight Arts Challenge will help turn some of these project ideas into reality.
On Monday, the John S. and James L. Knight Foundation announced 84 finalists for this year's competition, culled from more than 1,400 submissions. Over three years, the foundation will award $9 million to a number of innovative local arts projects that engage the community, approximately $3 million each year.
"These finalists reflect the city's growing community of artists creating new narratives for Detroit and a promising momentum for the city's future," Dennis Scholl, Knight Foundation's vice president for arts, said in a statement.
Winners of the competition, who must fundraise to match their grants, will be announced in September. The projects include preservation efforts for aspects of the city's history, one-time performances, workshops, festivals, youth programs, permanent spaces and more, in every genre imaginable. Individual artists made the list of finalists, as well as new projects from existing organizatins like the Museum of Contemporary Art Detroit and the Brightmoor Alliance. Here are just some of the exciting projects. See the full list of Detroit finalists for the Knight Arts Challenge here.
Gunstar Productions: To explore Detroit's neighborhoods through the arts by distilling the essence of 30 communities into 30 short plays that will be performed back to back in the order chosen by the audience
Hardcore Detroit: To preserve the legacy of the 1970s dance craze, the Detroit Jit, through a video featuring the original Jitterbugs and an instructional video on how it is performed
Adrienne Maree Brown: To help Detroiters generate new ideas and narratives about the city's future through a series of sci-fi writing workshops that bring together a cross-section of residents
North American Residency: To showcase Detroit to the city's neighbors by creating a residency for Canadian visual artists in the city
ADULT: To build on the city's musical legacy by having this band invite international and national musicians as "house guests" to live together and collaborate on music
Public Art Workz: To provide an artful space by placing handcrafted, whimsical porch swings – equipped with LED lights and cellphone charging stations – at bus stops and in parks around the city
Young Nation: To spread art into neighborhoods by commissioning local artists to create a series of skateboard and bicycle designs that will be sold out of a local shop
Zimbabwe Cultural Centre in Detroit: To unite artists in Harare, Zimbabwe, and Detroit by transforming two living spaces into cultural consulates
Al-Mutanabbi Street Starts Here Project: To celebrate the exhibition of an international book project commemorating the 2007 bombing of the famed street of Baghdad booksellers through a book arts festival
Holladay Brothers: To create a musical map of Detroit where residents and visitors can access a smartphone app to listen to a composition that matches their location
HYPE Teen Center Makerspace: To help Detroit teens discover their inner artist and inventor through a Makermobile that will bring computers, 3D printers, paint, robotics kits and more to libraries and community events
The Hinterlands: To help unite Hamtramck and Detroit by creating a 24-hour festival along the municipalities' border
Megan Heeres: To engage Detroiters in papermaking projects through traveling workshops that use invasive plants as pulp
The Heidelberg Project: To infuse the city with photography by launching Detroit Photo Day, where each resident is invited to take a picture and submit it for the chance of appearing on billboards, on public transit and in an exhibition
Mt. Elliott Makerspace: To celebrate Detroit's vibrancy by creating a Hyper Interactive Hip Hop Mardi Gras Parade that combines the unique traditions of the city's Caribbean Mardi Gras Festival, local Hip Hop artists and the DIY innovators at the Mt Elliott Makerspace
Submissions for the new competition were due in April. At the time, Knight Arts Associate Tatiana Hernandez told The Huffington Post they saw merit in going beyond traditional foundation practices for finding and funding arts and culture. Applicants were only asked to write a few sentences about their project, and Hernandez indicated that finalists and winners receive support from Knight with writing budgets and securing additional funding.
"Philanthropy is traditionally a non-transparent and difficult-to-access institution," she said. "And we're trying to open up and say, 'we're here to help you engage and empower the community.'"
In that vein, the contest includes a public voting component. Later in the summer, Detroiters will be able to text vote for an organization to win the Knight Arts Challenge People's Choice Award, who will receive $20,000 in support.
"We're ... fully aware that we as a foundation don't know what's best for a community, that the community itself does," Hernandez said.
Below, check out some of the inspiring projects that won the Miami Knight Arts Challenge.
PHOTO GALLERY
Knights Art Challenge