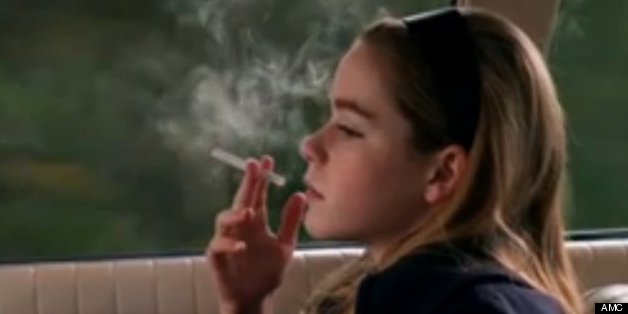 Note: Do not read on if you have not yet seen Season 6, Episode 12 of AMC's "Mad Men," titled "The Quality Of Mercy."

The fallout continued for poor Sally Draper (Kiernan Shipka) in the penultimate episode of "Mad Men" Season 6. After she walked in on her father "comforting" Sylvia Rosen in "Favors" last week, Sally decided that she wanted to go away to boarding school.
"Sally walking in on her father with this other woman is a very complicated experience, and her response is she wants to get as far away from them as possible," "Mad Men" creator Matthew Weiner says in a behind-the-scenes video from AMC. "Of course, Don knows exactly why she's going, and doesn't reveal that to Betty."
"I think he's still processing what happened, and how to best deal with this," Jon Hamm says about Don in the video. "It's a secret that's gotten out, and that's potentially devastating to Don."
Sally went right into rebellious teenager mode at her overnight visit to Miss Porter's School (which counts Jacqueline Kennedy Onassis, Gloria Vanderbilt, Lilly Pulitzer and the fictional Joanne Jefferson of "Rent"). In an effort to fit in with/impress Mean Girls Mandy (Kathryn Newton, who starred in "Paranormal Activity 4") and Millicient (Sammi Hanratty, who you might recognize as young Chuck from "Pushing Daisies"), she called up her old friend Glen Bishop (who's played by Weiner's son Marten) and got drunk.
But Sally's still got a good head on her shoulders: She refused the advances of Glen's friend Rolo (Liam Aiken of "Stepmom" and "Road to Perdition" fame), and didn't smoke the joint they were passing around. When Glen stepped in to help, tackling Rolo to the ground, Sally seemed to be relishing watching them fight over her in a moment that brought out her inner Betty (January Jones).
Her newfound jaded maturity culminated in one glorious moment as she drove home with her mom and smoked a cigarette. As she took a puff and stared into the distance, she sighed, "My father's never given me anything," and it was clear that for better or worse, she had grown wise beyond her years.
The "Mad Men" Season 6 finale airs Sunday night at 10 p.m. ET on AMC.

PHOTO GALLERY
"Mad Men" Season 6 and 7
BEFORE YOU GO