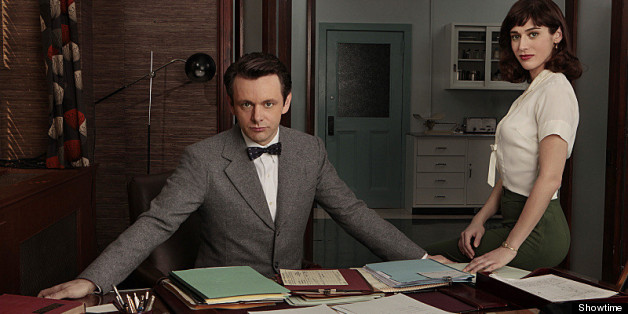 Showtime's "Masters of Sex" doesn't premiere until this fall, but the newly released teaser trailer should tell you everything you need to know about the cheeky new series chronicling the unusual lives, romance, and pop culture trajectory of the pioneers of the science of human sexuality, William Masters (Michael Sheen) and Virginia Johnson (Lizzy Caplan). Check out the new promo below:
"It's about Masters and Johnson, the man and woman who instigated all these incredible sexual experiments back in the '50s," co-star Beau Bridges recently told HuffPost TV. "I am the dean of the university where these experiments are happening. I'm sort of mentoring Masters -- he's my hope for the future -- so I'm a little freaked when he tells me what he's going to do."
Bridges recounted a particularly memorable scene from the first episode, which led to a somewhat awkward encounter after filming: "The first thing I have to do is peer at a woman's vagina through a dildo while she masturbates ... and it's outfitted with a magnifying glass. The poor woman who had to have her legs up in stirrups, I couldn't see her face because they had up a cloth ... and then my wife and I are out to dinner in New York, where we filmed, and this lady comes up and was very nice and friendly, 'Oh it's so nice to see you!' and it was this woman that I'd been staring at her crotch all day! [Laughs.] I said, 'I hardly recognize you!'"
If that doesn't give you a hint about what to expect from the show, nothing will.
"Masters of Sex" premieres Sunday, September 29 at 10 p.m. ET on Showtime.
Are you looking forward to "Masters of Sex"?
PHOTO GALLERY
Summer TV Guide