It's official: Michelle Obama's bangs are the most contentious global issue ever.
The first lady and her fringe headed to Belfast for this year's G8 summit, where she made a speech that sparked mass Twitter debate. Onlookers weren't concerned with the language Mrs. O used at the event, but rather the ill-received styling of her bangs. Yup, we're still not done talking about those.
As you surely know, FLOTUS seems to be growing out her blunt trim (aka her "mid-life crisis") and transitioning it to a side-swept style. The savvy folks over at the Daily Mail, however, noticed that people on Twitter weren't too thrilled with Obama's new look. The hashtag #bangsfail was even used -- ouch.
Our verdict? Well, we can't really see what all of the hullaballoo is about. Check out Michelle's bangs and the reaction tweets below and tell us: Are they really that bad?
The bangs in question: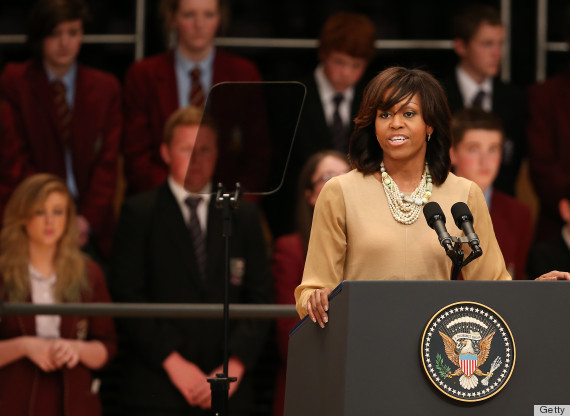 The Twitter responses:
Michelle Obama needs to move those bangs out of her face. Bad haircut

— Shelo9 (@shelo9) June 17, 2013
Was anyone else distracted by Michelle Obama's fringe? (That's 'bangs' to you Yanks.) #Belfast2013 #TheSeriousIssues

— Cemile Alkış (@GemAlkis) June 17, 2013
Note to self - cut fringe (bangs if you're US) makes Michelle #Obama look cross-eyed trying to see through hair. Don't want to follow suit.

— Scarlet Wilde (@wilde) June 17, 2013
What's going on with Michelle Obama's bangs? Even her hairdresser can't cope with the Belfast damp #bangsfail

— Lisa Mitchell (@MissLise) June 17, 2013
Michelle Obama having terrible 'bangs' malfunction - even US styling can't compete with Belfast weather #G8

— Sarah Knapton (@sarahknapton) June 17, 2013
Somewhere Karl Lagerfeld is smiling in his sunnies right now...
Don't worry, FLOTUS, we think you always look great:
PHOTO GALLERY
49 Of Michelle Obama's Best Looks
Want more? Be sure to check out HuffPost Style on Twitter, Facebook, Tumblr, Pinterest and Instagram at @HuffPostStyle.