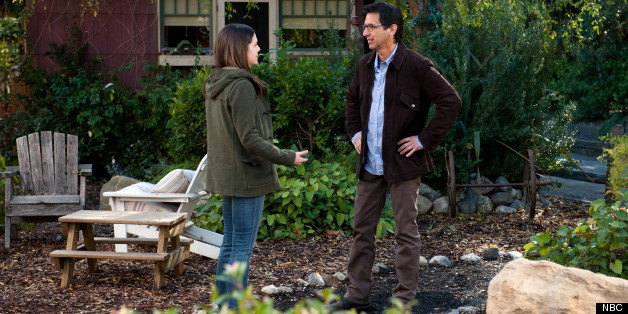 Hank and Sarah shippers, you may be getting what you want after all.
TVLine asked "Parenthood" executive producer David Hudgins if Ray Romano could return for Season 5 as Hank Rizzoli, a love interest for Lauren Graham's betrothed character Sarah Braverman. Hank, who also happened to be her boss, got in between Sarah and her fiance Mark Cyr (Jason Ritter), who eventually called off the wedding. But in the Season 4 finale, Hank moved away to Minnesota be closer to his daughter, leaving the romantically-challenged Sarah alone again.
But it looks like Hank's move may not be permanent ...
"We're currently discussing it," the "Parenthood" EP told TVLine at the recent ATX Television Festival of Romano returning to the NBC series. "I love Ray Romano and thought he was so good on the show last year ... He's great in that part and he works hard. He doesn't just show up and do his [scenes]; he actually researched the character."
With Ritter starring in the Fox pilot "Us & Them" -- starring Graham's "Gilmore Girls" daughter Alexis Bledel and based on the UK comedy "Gavin & Stacey" -- it looks like Mark might be gone for good and Graham previously joked that both he and Romano might be out for Season 5. When HuffPost Live asked her in April who she thinks Sarah should end up with, Graham laughed and said, "Well, we don't have either of them for next season, so I might have to go back to Billy Baldwin."
But earlier, at "Parenthood's" PaleyFest event in March, Graham did express hope for both of Sarah's suitors. "I felt that the finale left it open. Sarah made a choice and then Ray Romano's like, 'I'm moving to Minnesota,' so to me there was a lot of energy in both areas, so I didn't view it as 'I chose one or the other' necessarily because it wasn't going to work out. It could still go anywhere," she noted. "It didn't feel like, 'Here's where we're going to go next season!' It's hard because I really enjoyed working with Ray, and Jason has been part of this family for the whole time, so every year it's been hard to imagine the possibility of saying goodbye to him."
For more from Hudgins on "Parenthood" Season 5, click over to TVLine.
Would you want Romano to return to "Parenthood"? Would you want Ritter to return to "Parenthood"? Sound off in the comments!