The immigration debate has inspired an ice cream flavor.
Three Twins Ice Cream announced this month on its Facebook page that it will begin producing a "Sergio Romo Mexican Chocolate" flavor, inspired by the "I just look illegal" shirt that the Mexican-American pitcher wore during the Giants' World Series victory parade in October.
The mock up of the label for the ice cream features an image of Romo wearing a baseball cap, flanked by two white faces wearing sombreros. Below it appears a baseball with the colors and emblem of the Mexican flag and the slogan "it only tastes illegal." (Post continues below image)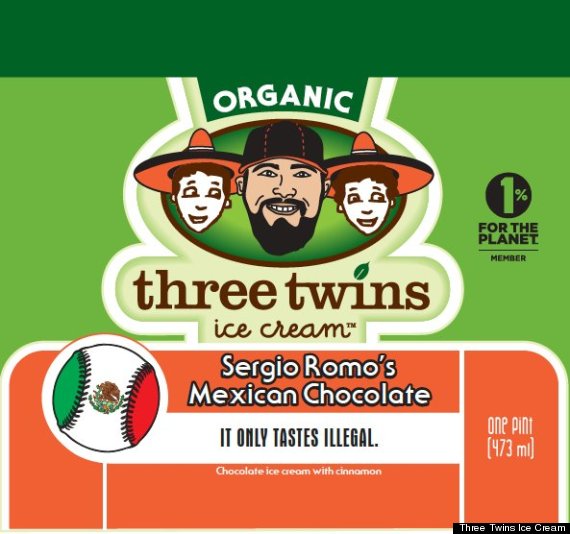 The company appeared to pass on making a pun using Immigration and Custom's Enforcement's acronym "ICE."
Three Twins founder Neal Gottlieb elaborated on the concept behind the Romo ice cream in comments published by Haighteration:
The inspiration of course came from the shirt that he wore at the World Series parade, which got a lot of people talking and thinking about immigration policy in the United States. Mexicans and Mexican Americans play such an important role in Major League Baseball and Three Twins Ice Cream that it seemed like a natural fit. While some claim to be offended by the logo and artwork, we think that it is topical, quirky and fun.
The company put out a call on its Facebook page in December saying it wanted to team up with Romo to raise money for immigration reform.
Romo, a first-generation American raised by immigrants from Mexico, has emerged as one a prominent pro-immigrant voice in sports, mocking anti-immigrant legislation with his "I just look illegal shirt" and getting behind the pro-reform "Dream Is Now" campaign.
"Sergio Romo's Mexican Chocolate" ice cream hits stores in September, the company said on its Facebook page.
Do you plan on trying Sergio Romo's ice cream? Should ice cream and politics mix? Let us know what you think in the comments.
BEFORE YOU GO
PHOTO GALLERY
6 Misconceptions About The Border