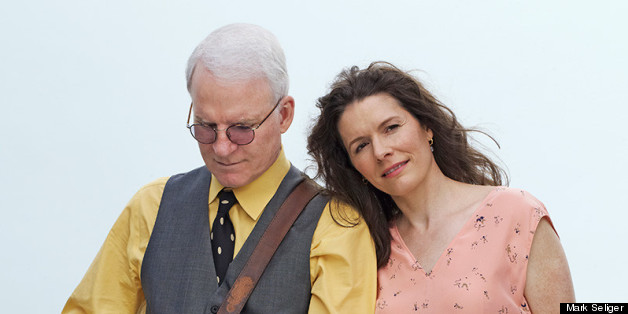 The iconic comedian and acclaimed singer-songwriter find a way to create beautiful melodies together.
By Katherine Lanpher
He's an iconic comedian, a best-selling author, and a bluegrass banjoist. She's an acclaimed singer-songwriter. But when Steve Martin and Edie Brickell initially starting collaborating, they had trouble doing it in the same room. Turns out these two industry veterans were equally ... shy.
Their first team effort -- a gorgeous passion project of an album titled "Love Has Come for You" (Rounder Records) -- was hatched at a birthday party for Brickell's husband, Paul Simon. "I went up to Steve and told him how much I loved his music," Brickell recalls. "He said he had a new tune, and I said, 'I want to make a song to that tune.'"
But Brickell, whose biggest hit has been the 1988 song "What I Am," found herself tongue-tied and mumbling when she began writing lyrics with him. "I couldn't calm my inner critic," she says. In turn, Martin felt "really, really intimidated" around Brickell.
Which is how the unorthodox collaboration began: "We decided to go away, separately make mistakes, be bad, and then come back with the finished product," Martin says.
He began sending Brickell compositions by e-mail. "When I heard his melodies, I would remember a part of my life that I'd left a long time ago," she says. "I'd be cooking, and absentmindedly sing along while the song played."
"You gained 25 pounds during this record," Martin teases.
Hooked on the "simplicity and quirky originality" of his tunes, Brickell says they "felt familiar, yet unlike anything I'd heard before." Martin felt a similar spark. "I'm exploring something that's been locked up inside the banjo, inside me, for 40 years," he says. "Edie somehow found a way to bring it out."
Once all 13 songs were written, the pair did finally have to work side by side in the recording studio, where Martin would lay down the track for Brickell to sing over. After her first take, she says, "the studio producer leaned into the microphone and said, 'That was great!' and then I heard Steve whisper, 'I didn't think so.'"
Brickell bubbles with laughter as Martin interjects. "That's not true!"
"You were joking," Brickell assures him. "And it was hilarious."
Beginning in May, Martin and Brickell took their live act of playful, rootsy songs on the road to cities along the East Coast and beyond. Let's hope the close contact doesn't keep them from producing a follow-up.
Keep in touch! Check out HuffPost OWN on Facebook and Twitter .
-----
BEFORE YOU GO
PHOTO GALLERY
Comedians Then & Now