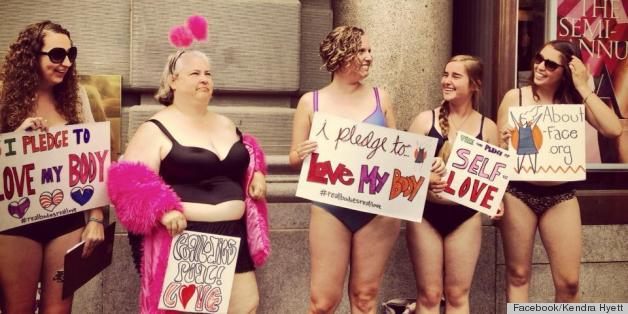 Victoria's Secret hasn't maintained a pristine rep as of late, from its controversial Bright Young Things tagline that had conservative parents in a tizzy to its failure to deliver on the promised "survivor" mastectomy bras.
The lingerie retailer became the target of more negative attention on Saturday, when a group of women (and at least one man) staged a friendly, half-clothed protest in front of a San Francisco Victoria's Secret store. The demonstration was organized by About-Face, a group that aims to promote women's self-esteem and body image by empowering them to understand the strong media messages that influence them.
Saturday's demonstration was called Operation Real Bodies Real Love: About-Face Action of Body Acceptance and Self-Love! Organized largely over Facebook, the event intended to contrast Victoria's Secret's narrow definition of beauty with "real" men's and women's bodies. Most of the demonstrators showed up in their bras and underwear, carrying signs with messages like "I pledge to love my body."
"We want people of all shapes, sizes, ethnicities, abilities, genders, and gender expressions to join us as we walk around Union Square," stated the Facebook event description.
About-Face also has a list of demands for Victoria's Secret plus other brands like Abercrombie & Fitch, including the inclusion of more diverse body shapes in its advertisements and clothing styles. Such demands are reminiscent of those made of Teen Vogue and Seventeen back in 2012, when young women from SPARK Movement protested the magazines' use of airbrushing and unrealistic body types.
Will Victoria's Secret respond to the latest demonstration? The jury's still out, but several of the demonstrators proudly posted their photos to Facebook and Twitter. Check them out below.
PHOTOS:
Whoooo! Tasha and I took the pledge! @aboutfacesf pic.twitter.com/Xo8MIxvbfi

— Vanessa Nogueira (@vnogueira09) June 16, 2013
Group with @aboutfacesf shed most of their clothes to raise awareness about body image issues: http://t.co/Ymv6yejcH9 pic.twitter.com/1CXeCf9mxU

— ABC7 News (@abc7newsBayArea) June 16, 2013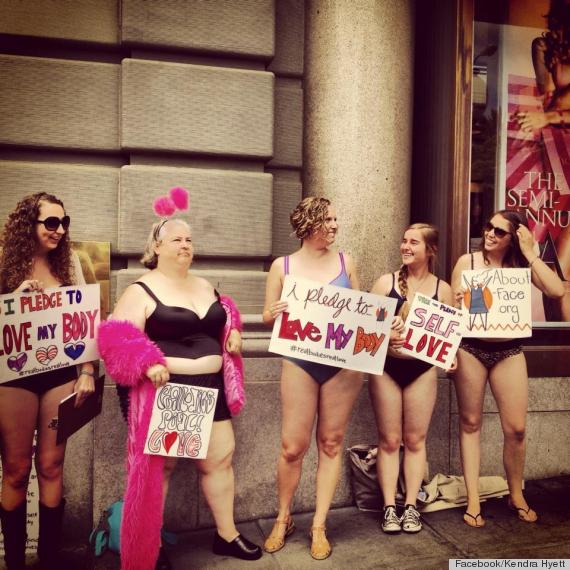 Some brands can't stay out of trouble:
PHOTO GALLERY
Controversial Products
Want more? Be sure to check out HuffPost Style on Twitter, Facebook, Tumblr, Pinterest and Instagram at @HuffPostStyle.