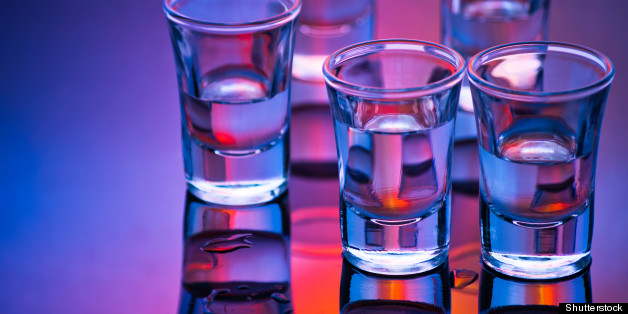 Four years after Weld County was designated as one of the state's worst areas for underage drinking and earned federal funding to combat the problem, state and local officials say efforts to educate parents and liquor retailers are showing promising results.
With $400,000 each year, Weld County Prevention Partners has worked to educate retailers and parents on how to help teens avoid alcohol, and the organization has seen a significant decrease in teens who say they binge drink or drink alcohol.
Weld, Denver, Adams and Pueblo counties showed the highest rate of underage drinking, so the state Department of Human Services' Office of Behavioral Health partnered with organizations in those counties to create programs, which are entering their fifth and final year under the grant.
The agency uses data from the state Liquor and Tobacco Enforcement Division to identify communities where it's easiest for teens to buy alcohol. Despite the education campaign, Weld still is a relatively easy place for teens to buy alcohol.
Data on the state enforcement division's website shows that since January of last year, Weld County had a higher number of compliance checks -- and a higher failure rate -- than counties of comparable populations.
The state liquor enforcement agency conducted 269 liquor compliance checks in Weld to see if establishments serve alcohol to minors. That's a much higher number of checks than more populous counties like El Paso and Arapahoe. Of businesses tested, more than 24 percent provided alcohol to underage drinkers, a failure rate higher than Adams and Denver counties.
Only a small percentage of teens get alcohol from retailers, according to Prevention Partners, but it formed an association to work with those who sell alcohol.
"We know through research and studies that the easier it is for a young person under age 21 to have alcohol, ... they're obviously going to drink," Stan Paprocki, an official with the state Office of Behavioral Health, said.
LeRon Ehrlich and his family have seen the worst-case scenario of what happens when a teen gets alcohol at a retailer.
His 19-year-old son, Waylon, died when he crashed his pickup after drinking at a Johnstown bar. Elizabeth Costisick, who pleaded guilty to serving alcohol to Waylon, was sentenced last month to two years on probation and six months with an ankle monitor.
Ehrlich didn't want to comment on Costisick's case, saying no one forced his son to drink.
"It was Waylon's choice to drink and drive, and that ultimately ended his life," Ehrlich said.
Ehrlich said rather than lay blame, he hopes to continue to share his story and message with parents and teens.
"Our message to the students is, 'If you're gonna drink and party, pick up the phone and call someone," Ehrlich said. "It might just save your life."
He said parents need to have honest conversations with their kids, encouraging them to call home if they end up drinking.
"(Parents would) rather get that phone call than the one I got from Colorado State Patrol in the middle of the night," Ehrlich said.
To help ensure that teens can't get alcohol from retailers or restaurants, Prevention Partners used grant money to form a coalition, Responsible Alcohol Retailers, that connects local businesses that sell liquor with law-enforcement agencies.
The group of about 40 businesses and several agencies meets regularly to discuss ideas and issues. Members of the group are able to train employees for free on serving alcohol.
By connecting business owners with officers and deputies from Greeley and Evans police departments and the Weld County Sheriff's Office, retailers begin to see those agencies as allies, said Prevention Partners Coordinator Nomie Ketterling.
Jim Radcliffe, owner of Westlake Wine & Spirits, said he was one of the original members of the Responsible Alcohol Retailers. He said he works diligently to prevent alcohol from getting into teens' hands, and he educates his employees on how to watch for people trying to buy alcohol for others who are underage.
"You have to take responsibility to make sure you know you're selling it to someone who's over 21, and then the people in community know that you care," Radcliffe said.
One focus of the federal grant has been to reduce the rate of binge drinking among Latino teens.
Ketterling said when the grant came in 2009, there was a large disparity between Latino teens and their non-Latino peers when it came to underage drinking, a reality to which factors like poverty and culture likely contribute.
"I think we can make a difference in this county and in the state, and we already have," Ketterling said.
In the last four years, the rate of binge drinking among Latino high school students across the state dropped from 30 percent to 22 percent, according to the state. That far surpassed the federal goal.
Overall, the rate of underage drinking among high-school aged teens dropped from 46 percent to 35 percent over the course of the last four years, Paprocki said.
"That is statistically significant," Paprocki said. "This initiative certainly has contributed to that."
Ketterling said the program in Weld County mainly focuses on educating parents about how to encourage their teens to avoid alcohol. She said while it may not be apparent, kids in middle school and high school are still listening to what their parents tell them, and parents need to set boundaries and know where their children are.
"I think we all know that parents are so powerful," Ketterling said. "We know they are the first teachers."
She said the program's marketing campaign targets social access, since teens are most likely to get alcohol from others. Messages also emphasize that even drinking at home with family members makes teens more likely to drink elsewhere, and any amount of alcohol before age 21 is detrimental.
"It's still hurting the developing youth," Ketterling said.
As the five-year grant enters its last year, Ketterling said Prevention Partners is working to find a way to sustain the programs they've started with the federal dollars. She said the organization will continue to work with retailers and distribute information and educate parents.
"(Underage drinking) is everyone's problem," she said. "Everyone is part of the solution." ___