This is the second part of a six-part series on asexuality, in which we explore the history of the asexual movement, uncover current research on asexuality, debunk common misconceptions and discuss the challenges the asexual community faces.
"Why am I asexual? I was born this way," said Mark McClemont from his office in Reading, England.
"It's not a phase I'm growing out of, and it's not a choice," the 49-year-old continued, his voice pinched with agitation. "For people who say we choose to be asexual, why would anyone choose to do that? Why wouldn't you choose to be bisexual? Then you get the best of both worlds. It doesn't work that way."
As asexuals (or "aces") like McClemont begin to stake a claim for a more visible place in society, the question of why asexuals are asexual is starting to form on people's lips. There have yet to be any definitive answers, but there hasn't been a shortage of theories posited by researchers, medical professionals and aces themselves.
Sexologist and professor Anthony Bogaert, considered by many to be the father of asexuality research, says that current data point to "some intriguing clues that there may be a biological disposition that pushes [aces] to an asexual orientation."
However, he admits "it's still very much an open question."
(Story continues below.)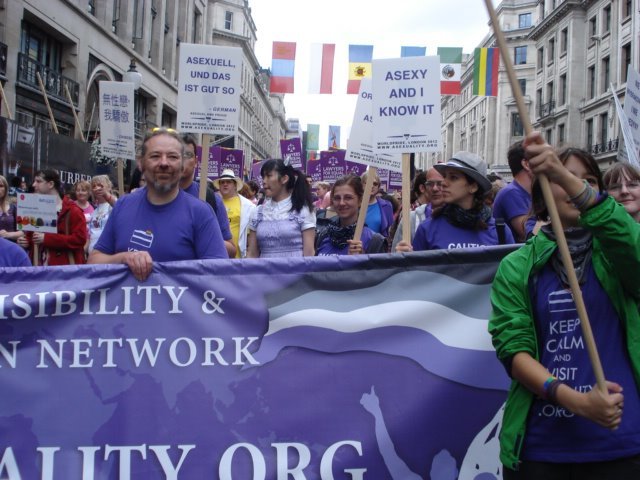 Mark McClemont, a self-described "lifelong asexual," is seen here (left) walking with other asexuals during WorldPride 2012 in London. (Photo credit: Michael Dore)
When we posted a message on an asexuality subreddit and asked self-identified aces to explain the reasons behind their asexuality, some agreed there may be a biological explanation, but most offered more nebulous responses.
"I'm asexual for the same reason that straight people are straight," one Reddit user wrote in reply.
Other asexuals said that perhaps a sex "switch" wasn't clicked on in their brain, while some argued that their asexuality is just another part of an already complicated spectrum.
Although most aces insist that asexuality is merely an aspect of their identity, the conversation about why asexuals are asexual has been fraught with controversy, particularly in the medical world.
"In the medical community, many people have just assumed that all asexuals can be diagnosed with a sexual disorder, most commonly Hypoactive Sexual Desire Disorder," said Bogaert, who teaches at Canada's Brock University. "It's very problematic."
Asexual activists say the conflation of asexuality and HSDD stems from a broad and vague definition of the disorder found in the 1994 fourth edition of the Diagnostic and Statistical Manual of Mental Disorders, the so-called "psychiatry bible," which provides standard criteria for the classification of mental disorders.
The DSM-4 definition describes HSDD as causing "marked distress or interpersonal difficulties" due to a lack or absence of "sexual fantasies and desire for sexual activity." Considered a "sexual dysfunction," HSDD has commonly been treated with therapy and medication.
David Jay, founder of the Asexual Visibility and Education Network (AVEN), says that red flags were raised after "regular reports" of HSDD misdiagnoses began cropping up in the ace community.
"We needed to prevent that from happening," he said.
In 2008, Jay and his AVEN team began organizing a task force to work on revising the HSDD definition to allow exception for asexuality. Jay says that some members of the medical and scientific community -- including Bogaert, who has been a central figure in the debate -- have been important allies in this fight.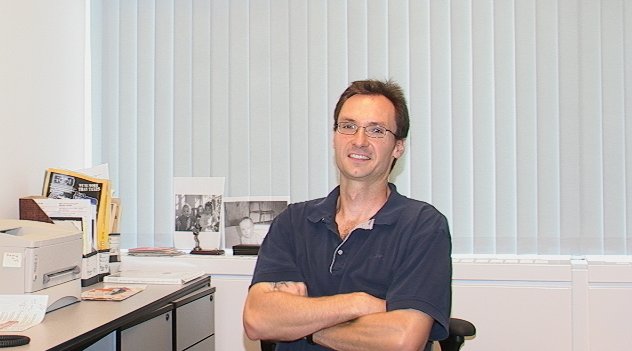 Professor Anthony Bogaert. (Photo credit: Anthony Bogaert)
Often credited with giving asexuality validity in the world of academia, Bogaert, who last year published the book Understanding Asexuality, has been a vocal champion for asexuals throughout the past decade.
"Though there have been models out there that put asexuality theoretically as a possibility, none had really addressed it," said Bogaert. "I was the one who put it on a map from a research perspective."
Bogaert says that one of the first mentions of asexuality in scientific literature was made in the late 1940s by famed sexologist Alfred Kinsey, who created a sexuality scale from zero to six, in which zero was exclusive heterosexuality and six was exclusive homosexuality. At the time, Kinsey created a separate "X" category for individuals who did not fit within the scale. Some academicians now think that Kinsey may have been referring to asexuals.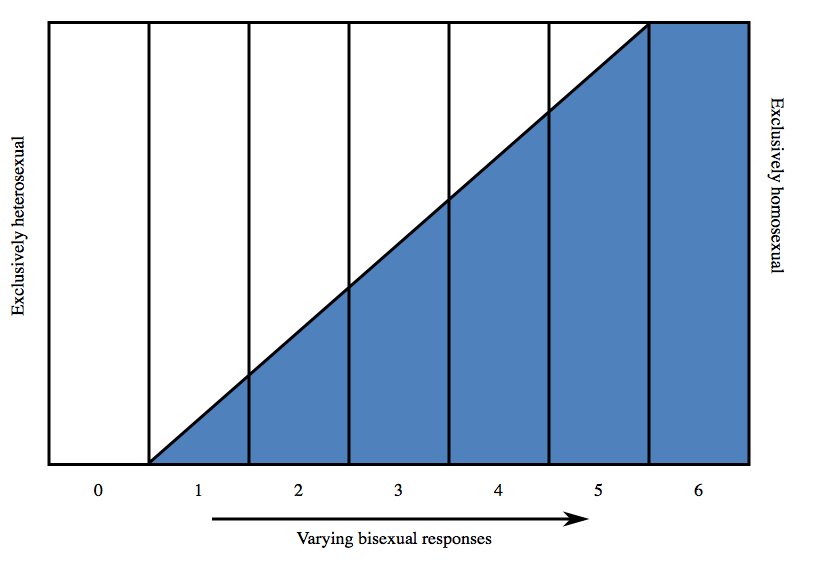 Kinsey's scale of sexual responses, indicating degrees of sexual orientation. Kinsey's category "X," which some academicians say refers to asexual individuals, is not represented in this graph. (Credit: Wiki Commons)
Despite Kinsey's recognition of this possible alternative orientation, there was virtually no further discussion of it in the medical and scientific world until Bogaert published a landmark paper about asexuality in 2004.
Using data from a national British survey, Bogaert concluded at the time that 1 percent (about 580,000 people) of Britain's population could be defined as asexual. That figure has since been used to give an estimate of the number of aces among the global population.
Though Bogaert's first paper on asexuality had its flaws, and researchers have since been at odds over whether 1 percent is an overestimate or an underestimate, it was nonetheless critical for the launch of a new field of study and worked to give validity to the newly formed ace community.
Two years later, Bogaert made waves again, this time with a follow-up paper that not only debunked the idea that asexuality is a medical condition like HSDD, but that also positioned asexuality as a sexual orientation in its own right.
Bogaert challenged society's "essentialist" position on sexual orientation, casting doubt on the idea that everyone is biologically determined to feel sexually toward others. Human sexuality is extremely complex, he argued, and with the limited knowledge we have about sexual orientation development, how do we know there isn't a biological predisposition to a lack of sexual attraction?
Other researchers have since corroborated Bogaert's arguments with studies of their own.
However, not all medical professionals have been quite so supportive of the asexual community's calls for recognition. Jay says there were some who reacted with downright hostility when the DSM campaign was first underway.
"We clashed with physicians who thought that what we were doing is dangerous," he recalled. "They said that we were advocating that it was OK to not be sexual. There was this really strong ethos that sex is a vital part of the human experience and without it, there's something wrong."
In 2005 Leonard Derogatis, director of the Maryland Center for Sexual Health at Johns Hopkins University, told The New York Times it was hard for him to see asexuals as "normal" human beings.
"It's a bit like people saying they never have an appetite for food," Derogatis said at the time.
A major challenge ace activists faced in working to redefine HSDD, says Jay, was working to overturn attitudes like this one, while still being careful to not invalidate individuals who really do suffer from sexual disorders.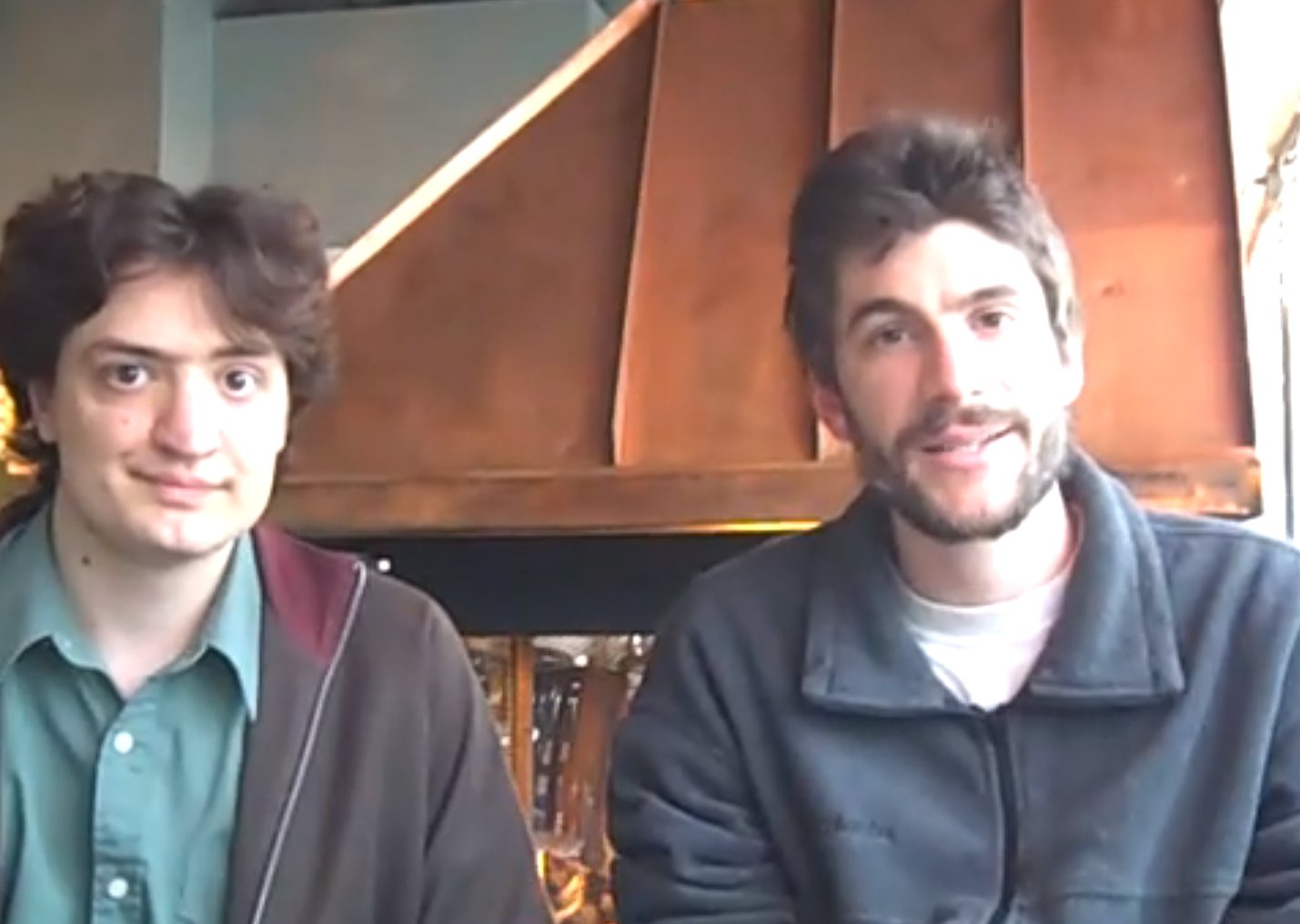 PhD student and Asexual Explorations blogger Andrew Hinderliter (left) and AVEN founder David Jay -- both leaders of the DSM task force -- explained the HSDD campaign in a 2008 YouTube video. (Scroll down to watch it.)
In May, when the fifth edition of the DSM was published (almost 20 years after the previous edition), the asexual community celebrated what they say is a symbolic, albeit small, victory.
The DSM-5 reclassified HSDD under the umbrella of Sexual Interest/Arousal Disorders. This new definition makes a distinction between a lifelong, generalized lack of sexual desire and other forms of the disorder, such as a temporary or a specific lack of desire.
Bogaert believes that most people who fall under the "lifelong" category will be asexuals, and though this means that asexuality could continue to be considered a treatable medical condition, ace activists say the distinction made in the new definition is an important step in the right direction.
"Eventually the goal is for asexuality to not be considered a disorder at all," Jay said. "But this is still a victory. It'll provide us with the ammunition that we need to engage with mental health professionals and to change the experience that [asexuals] have in a clinical setting."
In another small win, Jay also says that the medical community at large is becoming more accepting of asexuality.
Bogaert is now no longer one of the few people in the scientific world interested in asexuality. His research has opened doors to many other studies throughout the last decade.
Even Derogatis -- though still skeptical and of the opinion that asexuality may in some cases be explained away by disorders like hypogonadism and depression -- now expresses more openness to the idea that asexuality may exist in the "normal" spectrum of sexuality.
"I suppose they can," Derogatis said over the phone in May when asked if aces could be asexual without suffering from any underlying conditions. "The bottom line is, how do we know? If folks say, 'I've always been that way, and I'm happy with it,' then that's great."
For more on the DSM campaign, watch this YouTube video, uploaded by David Jay in 2008, about the campaign and task force:
This story appears in Issue 63 of our weekly iPad magazine, Huffington, in the iTunes App store, available Friday, August 23.
BEFORE YOU GO