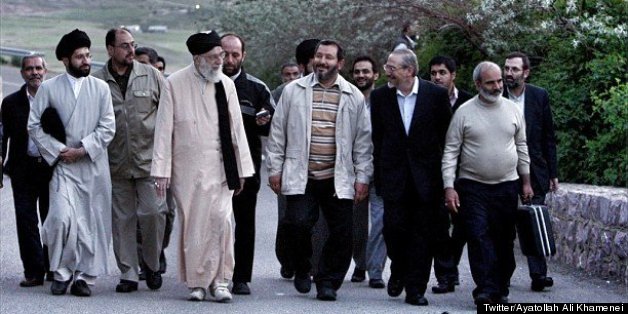 Something has put the Supreme Leader of Iran in a supremely bad mood, and for once, it's not Israel or the United States. Yesterday afternoon, Ayatollah Ali Khamenei published a multi-tweet soliloquy on his official Twitter page lamenting the decreasing popularity of physical activity in Iran, and in particular of hiking in the mountains around the capital Tehran, an activity he appears to deeply love.
Sometimes I go mountain #climbing around #Tehran & notice number of young ppl r few regarding Tehran's population...

— khamenei.ir (@khamenei_ir) June 18, 2013
... I feel sad that why our young people are not benefiting from such a beautiful nature | Ayatollah #Khamenei #Sport #Iran

— khamenei.ir (@khamenei_ir) June 18, 2013
It's hard not to commiserate with the Supreme Leader. After all, the mountains around Tehran
are gorgeous
, and impressive scenery is so much easier to appreciate when you have someone to share it with. That said, it would appear that Khamenei has no trouble finding companions for an outdoor stroll, based on the picture he posted on Twitter in 2009 of himself hiking in the mountains of Kurdistan.
Ayatollah #Khamenei hiking in the mountains of #Kordestan . May 2009 pic.twitter.com/vrXSz6R8

— khamenei.ir (@Khamenei_Leader) January 21, 2013
Is Khamenei just stressed out? With Iran's inflation rate rising above 30 percent this spring and an earthquake causing damage to one of the country's main nuclear reactors, one might think a long walk would do some good.
All joking aside, obesity is a growing problem in Iran. According to Green Prophet, 60% of Iranian's are overweight, and national obesity figures continue to rise, with a full 35% of Iranian women now considered obese. It may be that a Supreme Leader's Youth Fitness Challenge is in order.
In between mountain jaunts, Ayatollah Khamenei has managed to build a formidable social media profile, with an impressive 3,949 tweets on his official Twitter as of this writing. The Supreme Leader also started an Instagram page in 2009, and even joined Facebook in 2012, even though the site was still blocked in his country, according to The Guardian.
BEFORE YOU GO
PHOTO GALLERY
Ramzan Kadyrov: Instagram Champion