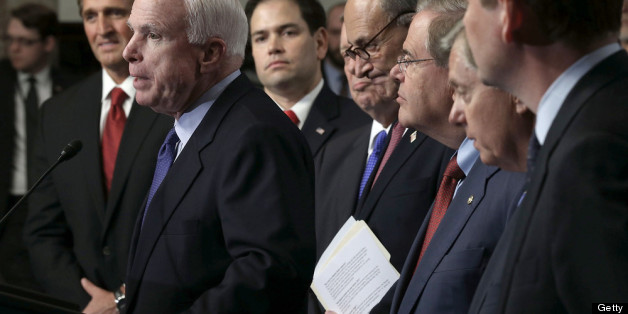 By DAVID ESPO AND ERICA WERNER, THE ASSOCIATED PRESS
WASHINGTON — The Congressional Budget Office says a sweeping immigration bill before the Senate would cut deficits by $197 billion over 10 years.
The bill would add $262 billion in new spending and tax credits over 10 years, a sum more than covered by $459 billion in increased revenues, according to the report Tuesday by Congress' nonpartisan scorekeepers.
The bill would cut deficits by an additional $700 billion in the second 10 years after taking effect, CBO says.
Some 8 million people in the U.S. illegally would initially gain legal status under the legislation, according to the CBO analysis. That's compared with a population of about 11 million immigrants now in the country illegally.
BEFORE YOU GO
PHOTO GALLERY
Bipartisan Immigration Plan's Key Provisions