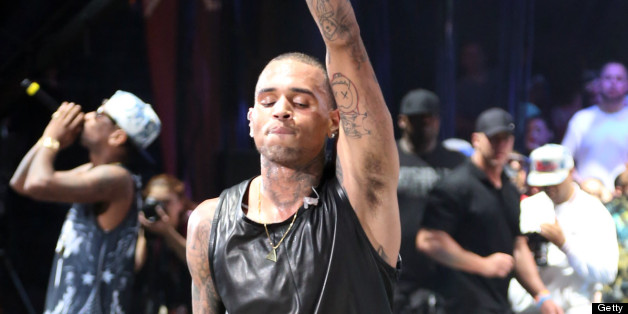 Chris Brown seems to be in a pretty good mood lately, buoyed by the release of "Don't Think They Know," a track which features vocals from the late, great Aaliyah. In the music video for the song, Brown plays the role of a grand unifier, bringing together Los Angeles' Bloods and Crips by walking around and singing a song about a relationship.
It's a nice message, if campy as hell. However, even the many folks who find Brown -- who viciously assaulted Rihanna in 2009 and has had a string of bottle-throwing and otherwise ne'er-do-well moments in the intervening years -- a completely irredeemable human being can't argue with the notion that reduced gang violence would be good for the community.
Starting from that footing, then, it appears as though Brown has some more lofty goals on his mind. Namely, the R&B singer and dancer wants to get free healthcare to all Americans. That's right, Team Breezy is Team ObamaCare. Brown announced his platform on Twitter on Tuesday:
Since granting true universal healthcare is something Obama himself couldn't accomplish, Brown has a more general goal in mind as well. He hopes his actions "inspired change in positivity":
In short, it's been a pretty good 24-hours on Twitter for Brown, who even re-tweeted HuffPost's writeup of his "Don't Think They Know" video, despite the fact that the intro to that article described the video as an "awkward appropriation of a dead singer's image." Humility, what a virtue!
BEFORE YOU GO
PHOTO GALLERY
Celebrity News & Photos