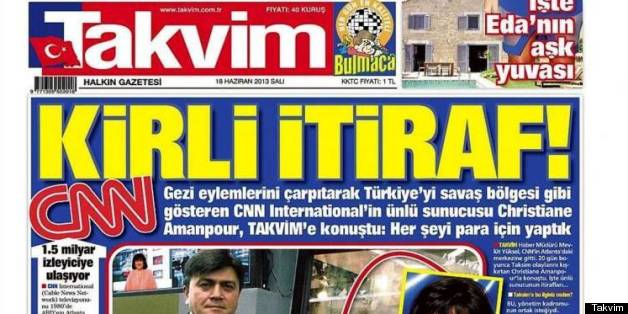 A Turkish newspaper published a fake interview with CNN's Christiane Amanpour on Tuesday, quoting her as saying that CNN had covered the recent protests in Turkey on behalf of business interests that wanted to hurt the country's economy.
Takvim, a daily Turkish newspaper, splashed the fake interview on its front page. The headline read "Dirty Confession," according to Hürriyet Daily News, and the subheadline continued, "CNN International's famous anchorwoman Christiane Amanpour spoke to Takvim and admitted 'We did everything for money.'" The story was also splashed at the top of Takvim's homepage on Tuesday.
Hürriyet Daily News reported that the article contained a note saying that the interview was not real. The online version said that the fake interview was written to "get back at" CNN for its "lies," while the newspaper insisted that the interview's version of events "is real."
Amanpour was quoted as saying that petroleum, alcoholic beverage companies and finance lobbies had "threatened" the network into covering the anti-government protests that rocked Turkey. The CNN host was dismayed on Tuesday, and tweeted:
Shame on you @Takvim for publishing FAKE interview with me.

— Christiane Amanpour (@camanpour) June 18, 2013
CNN covered the anti-government protests that rocked Turkey last week. The demonstrations in Taksim Square grew especially violent on Tuesday, and the network went into rolling coverage with dramatic footage from the scene.
Amanpour's fake interview is the latest example of the problems with the media in Turkey, which is notorious for its lack of press freedom. The Turkish press came under intense scrutiny and was slammed for largely ignoring the demonstrations, which saw massive unrest in Istanbul, and police unleashing tear gas and water cannons on protesters.
Below, see Takvim's front page on Tuesday.
BEFORE YOU GO
PHOTO GALLERY
Faces Of CNN