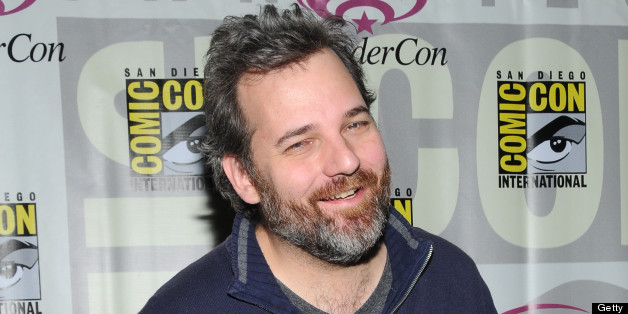 It was basically just yesterday that Dan Harmon was saying all those negative things about "Community" Season 4, but now, he's sorry for saying them.
On his Tumblr blog, the fired, then re-hired "Community" showrunner apologized to the many people he ripped and indirectly offended in his podcast.
"I went to bed feeling great, woke up and started work on season five of 'Community' with our exciting season five staff. I took them to lunch, checked my tweets, discovered my name in several headlines next to several bad words, and, as usual, it was then that I started to consider how my words might affect other people if viewed as headlines. After five seconds of thinking, I realized, as usual, that other people might be hurt, and that I really need to do this whole 'saying things and thinking about other people' cycle in a different order at some point," Harmon wrote.
First, Harmon apologized to the show's fans. "I am first and foremost sorry to 'Community' fans that got paid nothing to stick by 'Community' and get us to a fifth season only to hear the incoming showrunner say some stuff that felt very un-'Community.' Even if my goal had been to hurt someone, it would never have been you. What I said was disrespectful to your love for this show, love that I sometimes erroneously equate with validation of me as a person."
Then he apologized to the "Community" cast and crew. "Next I want to apologize to the people that did get paid to work on that season, but not enough: the cast and crew ... I was very much not thinking about anyone but myself while watching that season, which was the crime. I hope over time you'll forgive me. I wasn't thinking about your contribution or describing it. I was just indulging my petty feelings about being left out."
Harmon even apologized to the replacement "Community" showrunners, Moses Port and David Guarascio. "Thirdly, because they got paid more, but still not enough, the season 4 writers. I'm sorry I pooped on your work. You had to do something nobody should have to attempt, and you had the option of doing it the lazy way or the sellout way and you clearly did what you did because you were thinking of the fans. There was some amazing stuff in there."
Finally, Harmon apologized for comparing watching Season 4 to rape. "I am deeply sorry to anyone I hurt by using the word 'rape' in a comedic context. I am sorry to anyone I hurt by conjuring the concept of rape in a metaphor about my stupid hurt feelings. As you saw above, unless you skimmed this blog entry for the word 'rape,' I was not thinking about the impact of my words on the people that love 'Community' and work on it."
To sum it all up, Dan Harmon is really sorry, guys.
PHOTO GALLERY
'Community' Season 4
BEFORE YOU GO