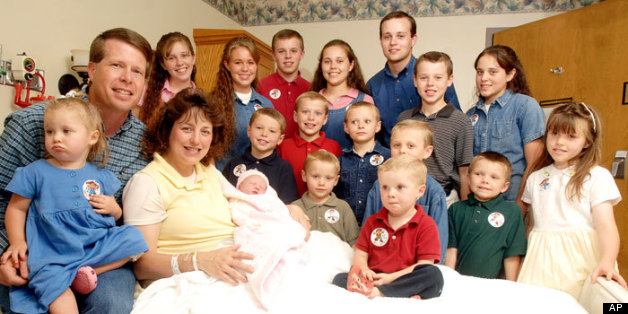 D.C.'s getting a new resident reality TV star. Josh Duggar, the oldest of the "19 Kids And Counting" kids, will be moving to Washington to work as executive director of the lobbying group FRC Action, an affiliate of the Family Research Council.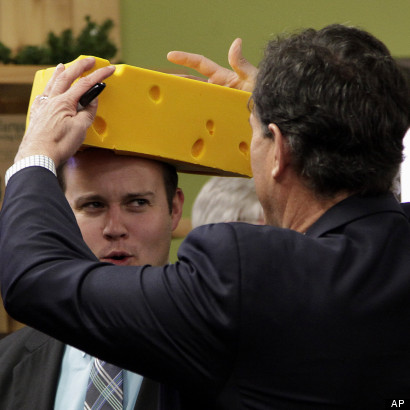 Republican presidential candidate, former Pennsylvania Sen. Rick Santorum, right, puts a cheese head hat on his friend Josh Duggar during their visit to Simon's Specialty Cheese in Appleton, Wis., Monday, April 2, 2012.
The stars of "19 Kids and Counting," formerly "18 Kids and Counting," formerly "17 Kids and Counting," heads to the District later this month. From the Washington City Paper:
Duggar announced the new job in an interview on Washington Watch with Tony Perkins Monday night. The eldest of the Duggar brood will be making the move along with his wife and three children, whose adventures in D.C. were featured in a recent episode of the TLC show. The excitement included struggling with a map outside a downtown Jos. A. Bank and munching on treats from Georgetown Cupcake.
Per the website LifeNews.com, Duggar will be heading FRC's "legislative arm, which lobbies on pro-life and pro-family issues."
This was phrased differently on Twitter:
Josh Duggar gets a promotion from @TLC reality show star to leader at anti-gay hate group http://t.co/2Qqn9jRWGp #LGBT

— GLAAD (@glaad) June 18, 2013
The Duggars aren't strangers to politics. The patriarch of the Duggar family, former Arkansas state legislator James Robert "Jim Bob," brought 12 of the 19 Duggars on the road last year to campaign for Rick Santorum.
Here's a four-minute YouTube clip of Jim Bob Duggar praising the Republican presidential nominee before the 2012 Iowa Caucus. Oldest son Josh praised Santorum in an interview with Politico:
"There's only one candidate in this race who embraces our values and that man is Rick Santorum. There's only one man that has stood by his principles, who has stood by his convictions, who has stood by his family like he is today," 24-year-old Josh Duggar told Florida voters. "He's standing with his family."
The Southern Poverty Law Center has said that the Family Research Council is an anti-gay hate group. From the SPLC site:
The Family Research Council (FRC) bills itself as "the leading voice for the family in our nation's halls of power," but its real specialty is defaming gays and lesbians. The FRC often makes false claims about the LGBT community based on discredited research and junk science. The intention is to denigrate LGBT people in its battles against same-sex marriage, hate crimes laws, anti-bullying programs and the repeal of the military's "Don't Ask, Don't Tell" policy.
BEFORE YOU GO
PHOTO GALLERY
The Duggars