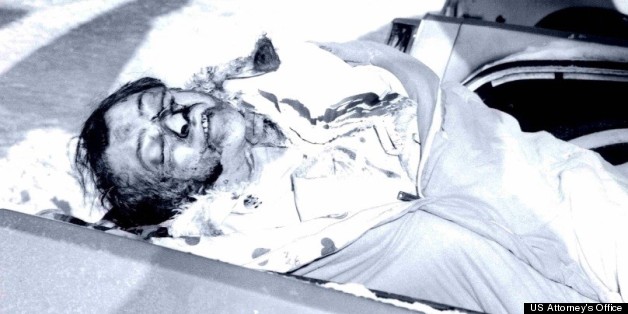 BOSTON -- Hitman-turned-government witness John Martorano resumed his testimony against James "Whitey" Bulger Tuesday, describing how his former partner shot people and ordered other killings to protect their criminal empire.
On Martorano's second day as a witness in federal court, he described his life as a mobster in Boston's Winter Hill Gang. Defense attorney Hank Brennan appeared to rattle Martorano during cross-examination with questions about his morals, however, the lawyer steered clear of several murders that the prosecution's star witness pinned on Bulger.
Bulger, 83, is charged with 19 murders, including the shooting death of Edward Connors, a bar owner in a Dorchester, Mass., phone booth in 1975.
Martorano said Tuesday that he drove Bulger and Stephen Flemmi to kill Connors, who had talked openly about killing a rival. "I heard the shots," said Martorano. "They came back a few seconds later ...they said, 'he's gone.'"
In 1982, when Martorano was on the lam, wanted for fixing horse races, there was a rare meeting of Winter Hill's three leaders. Bulger allegedly told Martorano that he'd killed a man for tipping off the FBI about a slaying Martorano committed. At that meeting, near New York's LaGuardia Airport, Bulger and Flemmi told Martorano to kill his friend John Callahan, because they thought he would implicate them in another fatal shooting.
Martorano initially objected to killing Callahan, but acquiesced to Bulger and Flemmi's demands.
"I felt lousy, but these were my partners. We were up to our necks in murders already," Martorano said. "They convinced me that they had saved my life by killing [the man who went to the FBI]."
While Martorano detailed the carnage, Bulger didn't look in his direction. According to the Boston Globe, he stared straight ahead. The jury, however, appeared captivated.
Also at Bulger's behest, Martorano said, he killed Tommy King, a hoodlum in a rival gang. "He and Tommy couldn't get along. They was always butting heads together," said Martorano, 72, who only agreed to the plot after a meeting with Winter Hill's leaders. "I had to go along with Mr. Bulger's request."
Despite admitting to 20 murders, Martorano denied that he was a hitman, mass murderer or serial killer when questioned by Brennan. Martorano claimed he was "a nice guy" who liked to help people.
"I don't consider myself a serial murderer. A serial murderer kills for fun, they like it," Martorano said. "I never liked it. I didn't like doing any of it. I don't like risking my life. I never had any joy [from killing].
In 1995, Martorano was nabbed in Florida where he'd lived as a fugitive for about 17 years. He was arrested on the horse race fixing charge, but federal prosecutors pursued a racketeering case. Soon thereafter, he sought a plea deal that put him in prison for 12 years in exchange for testifying against his former partners and John Connolly, a corrupt FBI agent who collaborated with Bulger and Flemmi.
Bulger also was a fugitive until 2011 when he was arrested in Santa Monica, Calif. He's pleaded not guilty to the 19 murders and other charges in the 32-count indictment.
Shortly before court adjourned for the day, Brennan questioned Martorano about why he turned into a witness for the federal government.
While in prison, Martorano said he learned that Flemmi had been an FBI informant for years. Brennan said Martorano cooperated with the United States Attorney's Office so he could save his own neck, before Flemmi, who'd also been arrested, revealed his partner's crimes.
"I wanted to get in and tell the truth before him," Martorano said. "I wanted to stop him from getting in and telling his side of the story."
When asked who taught him it was okay to kill, Martorano said, "I was always taught to defend your family and friends. Family and friends come first."
While growing up, Martorano's family owned a late-night club called Luigi's where he was introduced to underworld figures. He got into illegal gambling and fencing stolen goods. At 24, he claimed he committed his first murder -- a man who possibly had told police that his brother Jimmy killed a waitress in the family's lounge.
Martorano's last murder, he claimed, was the 1982 shooting of Callahan in Florida. "I felt very bad, very bad," he said. "That was the last thing I did."
Brennan angled to get Martorano to admit that he knowingly shot 19-year-old Elizabeth Dickson and 17-year-old Douglas Barrett as they sat inside a car with Herbert Smith, 47, who'd beaten up one of Martorano's friends.
But Martorano refused to concede he'd deliberately killed innocent bystanders. "I thought they were guys. From where I was, it looked like three people with hoods on."
Later he found out the two teens were in the car. "I did feel bad. I still feel bad."
At one point Tuesday, when the prosecution asked if regretted his life of crime, he answered: "Who wouldn't?"
BEFORE YOU GO
PHOTO GALLERY
Whitey on trial: Key evidence