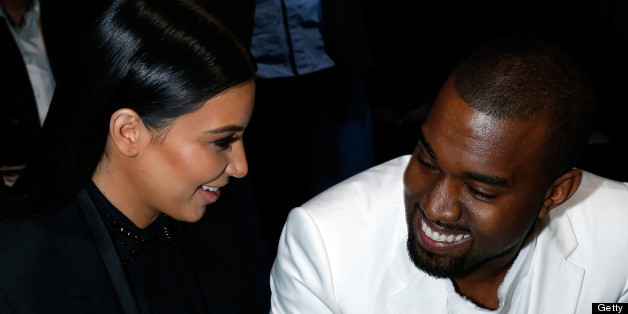 Shockingly, Kim Kardashian and Kanye West have still yet to release more details about the birth of their little girl. We know that West is protective of his family, telling The New York Times, "This is my baby. This isn't America's baby," but it's still surprising that the constantly-on-camera Kardashians have managed to zip their lips and silence their tweets about the most exciting thing to happen to their family since Kim's ill-fated wedding extravaganza.
Though the baby's name remains unknown, her personality has been revealed with a look at her horoscope! The acclaimed Susan Miller of astrologyzone.com has mapped out her star chart based on her birth time and date, and the future looks very bright for baby Kimye. Kim and Kanye were not the only stars that aligned for her birth, and there's a whole lot to look forward to for the little Gemini.
She's so lucky, she's a star...
"This baby is the luckiest little baby on the planet. This week is when the sun aligns with Jupiter, the giver of gifts and luck. I call these the luckiest days of the year," says Miller to omg! Yahoo. "This gives prominence, money, an ability to travel far and wide. It allows you to elevate to the very top of your profession if you want to. There's a golden triangle in the heavens going on right now. When you get planets cooperating with each other, it just brings opportunity and it almost gives you plain dumb luck. This baby is just born with a lot of luck surrounding her."
She's going to be famous!
Well, we knew that already. But Miller claims that her astrological chart makeup suggests that she would be famous regardless of her superstar parents. "At the very top of her chart, she has Neptune," explained Miller, going on to say, "When you have Neptune so high up, your face is known to everyone. This is not a private baby."
A hardworking, happy, wealthy child
So does that mean she won't be on reality TV? However, Miller says that she'll be a great communicator so maybe she will be! "She has the moon of Virgo, a sign of how superb she is at communicating and writing. When you have the moon in Virgo, you watch all the details and you get good with grammar and you hand in something polished. This baby cares, she's organized. This child is goal-oriented, knows what she wants. She knows how to make money because Venus is in the solar second house with Mercury so the writing brings her the money. Venus is associated not just with love, but with money. She's born with a lot of energy and a lot of drive. And she'll be very sunny and happy and optimistic."
She'll be close with her mother
"Kim's going to get along great with her baby because Kim's a Libra and the baby will get along with her mother because Saturn and the moon are beautifully angle and Venus and the moon are nicely angled," comments Miller. It's all about those angles!
A daddy's girl
Kanye's daughter has the same component of Jupiter aligned to the sun that her father does, a rare coincidence that only happens once every 12 years. This makes them extremely similar and compatible. "Their outlook is so similar. That relationship will be incredibly strong," according to Miller. "He'll always take care of her and he will not be a father that's going to disappear, financially or any other way. He gets very attached to this baby and takes her to a lot of fun places. He's going to have a big effect on her."
Starchart soulmate?
Baby Kimye shares her lucky birth time with an unlikely lady, Supreme Court Justice Sonia Sotomayor! In 1954, Justice Sotomayor was born during that same lucky few days which only come along once a year, and life has seemed to work out pretty well for her. Seems there'll be big things ahead for the Kardashian-West baby!
Love life
TLC's astrological predictions for June 15 birthdays reveal that "Everybody likes June 15 people because they are eminently lovable. In romance, they are forever searching for their true love. They are drawn to the idea of constancy in a relationship."
Career
"These pleasant, well-mannered people make excellent salespeople, realtors, counselors, and lawyers. They are skilled at making money, although that's not always their principal aim in life. They are extraordinarily generous," says TLC. But watch out! "Geminis born June 15 possess the proverbial iron fist in a velvet glove. Even when they choose to play hardball, their opponent may never realize they've been in a fight. These individuals are well-mannered, quiet, and seemingly shy, yet they usually manage to get their way."
So there it is. Everything you need to know about Kim and Kanye's baby. But let's be real, the only aspects of her personality which are currently evident are likely how often she likes to eat, poop and sleep.
BEFORE YOU GO
PHOTO GALLERY
Celebrity Babies 2014