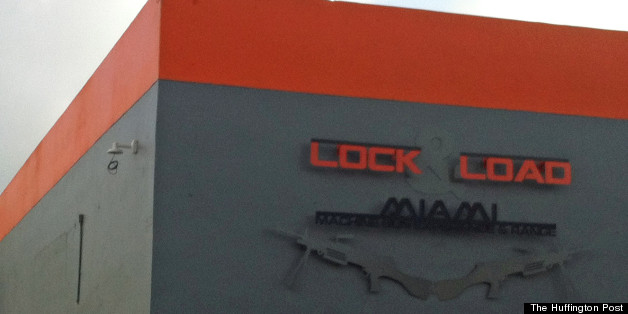 MIAMI -- Steps away from the some of the best at galleries in Wynwood -- and blocks away from shootings that still plague the area -- lies a giant grey and orange warehouse where patrons will be able to shoot machine guns, Uzis, and other fully automatic firearms.
Set to open at the end of June, Lock & Load: Machine Gun Experience is a "high-end" gun range that specializes in "exotic firearms," including 25 different types of fully automatic firearms, according to its web site.
The mention of "high-end" may conjure up images of patrons stopping by after downing bottles of Cristal at LIV, but the web site states that no one will be allowed to shoot if alcohol or drug use is suspected.
Safety training and background checks are required for anyone seeking a Lock & Load membership, which permits visitors to bring their own guns.
But for anyone just wanting to walk in off the street and shoot a military-grade machine gun, no background check is required, you only need a valid ID, according to the site's Frequently Asked Questions section.
The 22,000 square-foot facility's shooting packages include vintage Tommy guns, as in the "Scarface Package," Uzis in the "Special Forces: Israel" package, or, at the top end at $575, the "Automatic Gratification Package" grants the shooter 250 rounds with 10 different kinds of guns.
Such "automatic gratification" may stick out amongst the area's cultural offerings, which peak in December during Art Basel Miami Beach, but it's right at home in Florida.
Nicknamed the "Gunshine State," the state was the first to approve one million concealed weapons permits, the first to pass controversial Stand Your Ground laws, and National Rifle Association has tested gun-friendly laws here with the very pro-gun legislature.
In 2012, 80 percent of all murders in Miami-Dade were committed with a gun.
In the immediate blocks surrounding Lock & Load, a 15-year-old was recently shot in the back and possibly paralyzed, and a pregnant woman was shot near the Wynwood Art Walk.
UPDATE: A public relations representative for Lock and Load tells HuffPost Miami that anyone wishing to shoot machine guns must begin with a mandatory firearms safety orientation in the education room and will receive one-on-one direct supervision while on the range.