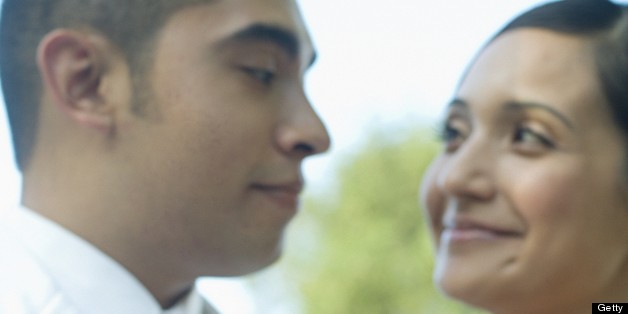 It's no secret that marriage rates have been on the decline for decades -- in 2011, just 51 percent of Americans were married, compared to 72 percent in 1960. And new research predicts that marriage rates will remain at a historic low in the years ahead.
Private research company Demographic Intelligence studied the state of marriage in the U.S. and, in an analysis released Monday, predicted that the marriage rate will remain at 6.8 marriages per 1,000 people in 2013, where it's been since 2009 (compared to 7.3 in 2007).
Researchers projected that there would be 2.189 million weddings in 2014 and, depending on the economic recovery, 2.208 million in 2015 (up from 2.168 million this year). Demographic Intelligence spokesperson Steve Morales explained to HuffPost Weddings in an email that although more weddings will take place, the overall rate of marriage will remain the same because the "echo boom" generation (grandchildren of baby boomers) is so large.
Researchers also predicted that the average age at first marriage will increase -- by 2015, the company predicts the average age will be 29.2 for men and 27.1 for women, up from 28.2 for men and 26.1 for women in 2010.
Experts have attributed the decreasing marriage rate to a number of factors, including divorce fears, changing cultural attitudes about marriage and rising college debt. However, a 2010 Pew Research Center study found that though 40 percent of Americans said marriage is becoming obsolete, 61 percent of never-married individuals said they'd like to tie the knot someday.
Click through the slideshow below for more interesting findings about marriage.
PHOTO GALLERY
Top 10 Marriage Findings of 2012
Keep in touch! Check out HuffPost Weddings on Facebook, Twitter and Pinterest.