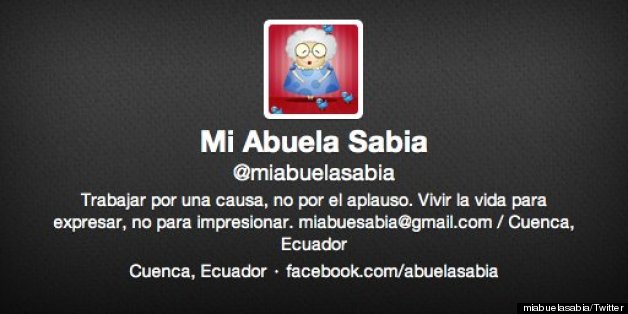 The President of Ecuador, Rafael Correa, has won the last seven elections, his party control 100 of the 137 lawmakers in the National Assembly and he brings crowds anywhere in his country — yet he still isn't the most popular person in Ecuador.
He's about 800,000 followers on Twitter short from that title. In this scenario, he may have won at the polls, but he is defeated by one grandmother on Twitter.
The account's bio translates to say, "Working for a cause, not for applause. Live life to express, not to impress." The default picture shows a smiling, jolly grandmother with four stylized Twitter birds around her.
Like clockwork, a new tweet appears every hour — tweets of inspirational quotes and phrases of wisdom from some of the most intelligent people to have ever lived. Some are proverbs from the Bible, others are quotes from Benjamin Franklin, and some are teachings from the Dalai Lama.
This 'Twitter grandma" knows that sometimes people just want to read some good news on Twitter, that will help them through a tough day, despite all the things that are happening in the world.
But who is @MiAbuelaSabia (translation: My Wise Grandmother)? No one really knows the identity of the person behind the account.
The only link to outside communication is an email address placed in the bio of the Twitter account, and a Facebook account which appears to be simply an aggregate of the popular Twitter account, posting the tweets on its timeline.
So far, only one reporter from the BBC has been able to get in touch with the person behind the popular Twitter account. The story was written for the Spanish-language BBC site, BBC Mundo. This was the response that the "grandma" had about the origins of the account:
"On my personal account I followed a woman from Guayaquil who one day wrote 'mi abuela era sabia,' and that's where the name came from. I launched the account as a hobby in March 2010, and from there it snowballed."
According to the same BBC Mundo report, digital analysts say the success of the account stems from the strong family ties in Cuenca, Ecuador.
Mi Abuela Sabia's Popularity
Mi Abuela Sabia is ranked amongst the 800 most followed accounts in the world and ranks #1 in the home country of Ecuador.
The account's 17,000+ tweets have accrued nearly 1.8 million followers — compared with President Rafael Correa of Ecuador, who has just over one million followers.
During the 2011 Twitter boom, when loads of people were opening a Twitter account, the site began to receive dozens of followings every minute. The "grandma" told this to the BBC Mundo reporter:
The boom of Twitter was in 2011, where everyone got an account, and since that year @miabuelasabia was developed. At that time, there were many phrase accounts, but mine became something of a vanguard. In 2010 there were only two accounts that featured phrases, but even they disappeared.

Mi Abuela Sabia's inspirational tweets:
Hay muchas religiones, pero hay una sola moral. (John Ruskin)

— Mi Abuela Sabia (@miabuelasabia) June 18, 2013
"There are many religions, but there is only one morality."
La vida es demasiado corta para ser pequeña. (Benjamin Disraeli)

— Mi Abuela Sabia (@miabuelasabia) June 18, 2013
"Life is too short for it to be small"
Si no te gusta algo, cámbialo. Si no puedes cambiarlo, cambia tu actitud. (Maya Angelou)

— Mi Abuela Sabia (@miabuelasabia) June 17, 2013
"If you don't like something, change it. If you can't change it, change your attitude." (Maya Angelou)
Deja que tu sonrisa cambie el mundo, pero no dejes que el mundo cambie tu sonrisa.

— Mi Abuela Sabia (@miabuelasabia) June 17, 2013
"Let your smile change the world, but don't let the world change your smile."
Originally published on VOXXI as Mi Abuela Sabia Twitter account outranks Ecuadorian president
BEFORE YOU GO
PHOTO GALLERY
Hispanic Contributions