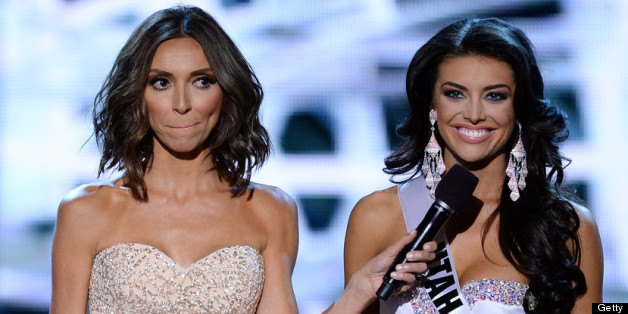 Miss Utah USA Marissa Powell certainly didn't plan to flub her response during the interview portion of the 2013 Miss USA pageant and become a viral laughing stock. So what happened?
Powell appeared on the "Today" show Monday to talk about her jumbled answer to a question about income inequality in America, explaining that she was flustered and a bit confused. When she was asked what she thinks about women making less money than men even though 40 percent are the primary breadwinners, the 21-year-old responded, in part, "Create education better."
Not since Miss Teen South Carolina contestant Caitlin Upton has someone botched an answer during a live pageant so badly. But Powell isn't blaming her brains -- she's blaming her nerves.
"What was going through your mind?" asked Matt Lauer.
"Oh my gosh, so much," she said. "I can't even tell you. I was so excited and I was so nervous. I got up to this Top Five question and I was the first one. And I got up and the question was a little bit confusing to me and I just started speaking without even processing. I just started going."
TMZ reported Miss Utah is telling those close to her that she is humiliated she "spaced out" during the live show. Supposedly she never really even heard the question asked to her. Instead of asking judge NeNe Leakes to repeat it, she just decided to blurt out whatever came to mind, all while becoming more and more flustered.
Sian Beilock, professor of psychology at the University of Chicago, had a similar theory regarding the very public mishap.
"People start worrying and that eats up their brainpower," she told NBC News, adding that when too many thoughts are swimming around the brain processing becomes sluggish. "When all eyes are on us, it makes us stumble on our words. It disrupts the things that [usually] work on autopilot."
Powell, who wound up finishing as third runner-up, seems to be trying to take it all in stride.
I really appreciate all the love! The hate? That's not my style.

— Marissa Powell (@RealMissUTusa) June 18, 2013
Watch her "Today" show interview:
Relive the joy and tears:
PHOTO GALLERY
Miss USA 2013
Want more? Be sure to check out HuffPost Style on Twitter, Facebook, Tumblr, Pinterest and Instagram at @HuffPostStyle.