 Rick Scott gets some good news in Florida, if good news means trailing by 10 points and a "re-elect" of just 35 percent. The growth of cell-phone-only households show no signs of slowing, and we are shocked, shocked, shocked that the number of "big data" political consultants is growing even faster. This is the HuffPost Pollster update for Tuesday, June 18, 2013.
IN FLORIDA, SCOTT'S POSITION WEAK BUT IMPROVING - A new Quinnipiac University survey of registered voters in Florida has mixed results for Republican Governor Rick Scott. One the one hand, Scott has narrowed the lead of his strongest potential opponent and has increased his job approval rating to his "best ever" as measured by Quinnipiac. On the other hand, Scott's approval rating stands at just 43 percent, and he trails both "Republican turned independent-turned-Democrat" Charlie Crist (37 to 47 percent) and Democrat Bill Nelson (38 to 48 percent) in hypothetical contests.[Quinnipiac]
A 'killer' reelect? On Twitter, Guardian polling blogger Harry Enten noted a "key number" in the Quinnipiac Poll: "50% think Scott doesn't deserve re-election. Only 35% think he does. That's killer." [@ForecasterEnten]
Several Republican pollsters took issue with Enten's characterization:
-Logan Dobson: "Lots of people win re-election with 50+% thinking they don't deserve re-election. Because that's a theoretical concept, not a ballot choice." [@Logan Dobson]
-Jim Hobart: "Yup, and the question is even less predictive than it once was, due to current dissatisfaction with government (state and fed)." [@HobartPOS]
-Matt Dabrowski: "[Quinnipiac] reads closer to a hard re-elect. 35% the traditional line. Scott not the favorite but I wouldn't count him out yet." [@MattDabrowski]
Background on the "re-elect" - Campaign pollsters have long relied on the so-called "re-elect question" to gauge support for the incumbent, especially at an early stage of the campaign when potential challengers are limited by low name recognition. For individual pollsters who have asked the same question the same way in hundreds of private surveys over the years, these measures may have some predictive value. But results from re-elect questions can be harder to interpret on public polls, partly because news media polls rarely ask them and partly because the question has many variations, particularly in the way pollsters pose the alternatives to support for the incumbent. Some, like Quinnipiac, offer "does not deserve to be reelected" as the alternative choice. Others ask "if it's time to give someone else a chance" or if the incumbent should be "replaced" or even "fired." Some break the alternative into two categories ("will you consider voting for someone else, or do you think you will vote to elect someone else?"). Each of these variants can produce higher or lower scores.
Predictive value? It is hard to gauge without a systematic evaluation of the meager public data, but as Logan Dobson points out, the Gallup poll has asked a similar question about national politics over the years and concluded that their version of the question "is not highly predictive" of presidential elections 18 months or more in advance. For example, in October 1994, only 38 percent of adults said President Bill Clinton deserved reelection. Two years later he defeated Republican challenger Bob Dole, 49 to 41 percent. [Gallup]
CELL-PHONE ONLY POPULATION TICKS UP AGAIN - A report released on Tuesday by the Centers for Disease Control (CDC) estimates that 36.5 percent of U.S. adults live in a household that has only mobile telephone service and no landline. CDC has tracked questions about telephone service usage since 2003 on a high quality, in-person survey known as the National Health Interview Survey (NHIS), because the agency tracks health behaviors with telephone surveys. Their tracking has shown a steady, relentless increase that now extends to more than half of adults under age 35 and 62.1 percent of those between the ages of 25 and 29. It also includes 50.5 percent of Hispanic or Latino adults, 59.7 percent of those who rent their homes and 54.3 percent of those living below the Census Bureau's poverty threshold. [CDC]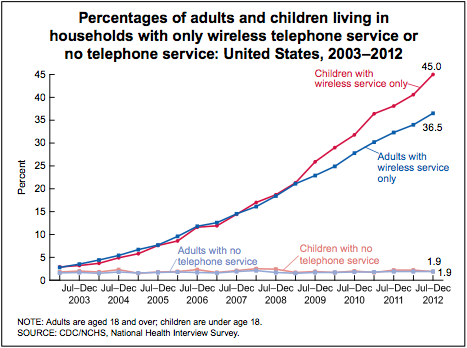 Undermines landline-only polling - National Journal Hotline polling editor Steven Shepard explains the import for polling: "Polls that rely too much on landline participation -- or call only landlines -- are going to reach far too many older and whiter voters, and not nearly enough younger or Hispanic voters. 'The potential for bias due to undercoverage remains a real threat to surveys conducted only on landline telephones,' the CDC report states...The increases among middle-aged Americans are particularly troubling for public polling. While only 23.9 percent of those aged 35--44 were cell-only at the end of 2009, that percentage has skyrocketed since. In 2012, a whopping 43.5 percent of Americans aged 35--44 were cell-only, and as those cord-cutting Americans move into their late 40s and 50s, it's expected that landline-substitution percentages among those cohorts will accelerate as well. In 2012, 28.4 percent of Americans aged 45--64 were cell-only, up from 14.9 percent in late 2009. [National Journal]
The move to interviews over cell phones - As Shepard explains, "It's illegal for automatic dialers to call cell phones, so those numbers must all be dialed by a human being, which is more costly. Some pollsters have made significant commitments to contacting cell-only Americans, despite the costs." These include most of the national live-interviewer media polls, including Gallup, Pew Research, ABC/Washington Post, CBS/New York Times, NBC/Wall Street Journal, CNN/ORC, Fox News, AP/GfK and the statewide polls conducted by Quinnipiac University and Marist University. However, "the FCC regulations prohibiting automated dialers from calling cell phones also means that automated polls, like the ones produced by Public Policy Polling on the Democratic side, and the newly-founded Harper Polling on the Republican side, exclude [cell-phone only] respondents entirely." Other automated polls including Rasmussen Reports and Survey USA "[use] the Internet to reach cell-only voters at a lower cost than live interviewer." [ibid]
COOK POLITICAL LISTS POLITICAL 'BIG DATA' CONSULTANTS - On Tuesday, the Cook Political Report unveiled a "Big Data At-A-Glance" feature, a extensive "directory of who's who and who's where in the fast-reorganizing, quickly capitalizing world of political Big Data." An introduction by Elizabeth Wilner includes first reports of two new firms: "The latest Democratic firm on the scene is BlueLabs. Formed by Chris Wegrzyn, Elan Kriegel and other senior Obama analytics alumni, it boasts the heads of predictive modeling, analytics technology, polling and battleground states analytics from the campaign's storied 'Cave.'...The newly formed Deep Root Analytics brings together some of the [Republican] party's savviest thinkers about media targeting, including Romney 2012 analytics chief Alex Lundry, the leadership of Lundry's firm TargetPoint Consulting, and Bush 2004 top targeter Sara Taylor Fagen. [Cook Political]
AMERICANS AGAINST ARMING SYRIAN REBELS - HuffPost's Emily Swanson: "Most Americans continue to oppose sending weapons to Syrian rebels after the Obama administration announced it would do so last week, according to several new polls. And a HuffPost/YouGov poll finds that even among those who believe that the Syrian government has used chemical weapons against rebels, more people oppose sending weapons than support it. According to the new HuffPost/YouGov poll, 53 percent of Americans say that the U.S. military should not provide weapons to rebels in Syria, compared to 19 percent that agree with the arms support. Respondents to the poll also opposed U.S. air strikes in Syria (48 percent to 19 percent) and sending U.S. troops to Syria (68 percent to 8 percent)." [HuffPost]
LESSONS FROM PAST POLLING ON PRIVACY - Mike Mokrzycki: "Pollsters jumped into action after bombshell disclosures early this month about vast National Security Agency collection of telephone and Internet records. Polling observers quickly noted widely varying results, some indicating Americans were sanguine about the surveillance and others signaling greater alarm....All these commentators noted that question wording can make a big difference. That's always true in polling but especially so on a topic like privacy vs. surveillance, when the broader context includes fear of terrorism, and when many people may not be paying very close attention to the issue." [HuffPost]
POLLSTER UPDATE VIA EMAIL! - You can receive this daily update every weekday via email! Just enter your email address in the box on the upper right corner of this page, and click "sign up." That's all there is to it (and you can unsubscribe anytime). The Pollster Updates will continue to publish online, but if you'd prefer the convenience of email, it's just one click away.
TUESDAY'S 'OUTLIERS' - Links to more news at the intersection of polling, politics and political data:
-Almost as many Americans believe "White House officials ordered the IRS to target" Tea Party Groups (47 percent) as believe :those IRS officials acted on their own without direct orders from the White House" (49 percent). [CNN]
-The Public Mind poll finds big leads in New Jersey for both Christie and Booker. [Fairleigh Dickinson University]
-Stu Rothenberg explains why he never considered the Massachusetts Senate special election a "toss-up." [Roll Call]
-Gabriel Gomez's campaign releases an internal poll showing him 7 points behind. [Gabriel Gomez]
-Ruy Teixeira agrees that Georgia could be a 2016 battleground. [Think Progress]
-Harry Enten says Rubio's immigration push is the first step of the invisible primary for "establishment" support. [Guardian]
-Germans still love Barack Obama. [Pew Research]
-Nathan Gonzales finds few competitive contests for open U.S. House seats. [Rothenberg Political Report]
-Rich Morin reviews the Bullock et. al. study showing that monetary rewards can reduce "wrong poll answers" driven by partisanship. [Pew Research]
-Mark Hugo Lopez and James Hawkins share verbatim responses from a focus group of LGBT adults that helped shape their national survey. [Pew Research]
-Nate Cohen thinks we're likely to forget about the NSA scandal, allowing for a rebound of Obama's approval. [TNR]
-Four scholars find no evidence of a likely backlash to a Supreme Court decision advancing gay rights. [Monkey Cage]
-Nate Silver disputes Politico's take on the empirical nature of truth, "prov[ing] stuff," and the Beltway bubble. [Talking Points Memo]