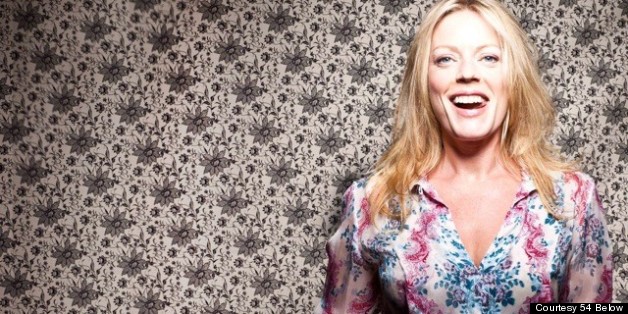 Broadway veteran Sherie Rene Scott had a very simple inspiration for her new cabaret show: meat.
"I have been a piece of meat, I have identified with the meat...but I've desired others for their meat, too," the 46-year-old actress, who counts original roles in "Dirty Rotten Scoundrels," "The Little Mermaid" and "Women on the Verge of a Nervous Breakdown" among her Broadway credits, told The Huffington Post. "My show became an investigation of, 'What are we really hungry for?' And all of those base, human desires."
The three-time Tony Award nominee's primal explanation may seem esoteric, but her appropriately-titled show "Piece of Meat" has won raves following its 2012 premiere. "Meat," which sees Scott eschewing musical showtunes for which she's best known in favor of songs by Annie Lennox, Joni Mitchell, Paul McCartney and even the Talking Heads, returns to New York's 54 Below from June 17 through June 29. After the show's initial engagement, Time Out New York praised Scott's "blend of midtown star power and downtown edge," while The New York Times' Stephen Holden declared, "I want to see it again and again."
Of course, music does not encompass the full range of Scott's aspirations for the very autobiographical "Meat." Woven into the show are a series of personal monologues inspired by its star's decision to begin eating meat after having spent 26 years as a strict vegetarian; Scott says she hopes to explore the theme both literally and figuratively, with equal parts humor, gravitas and old-fashioned sex appeal.
"I was going through a real-life, giant struggle," Scott, who describes "Meat" as being "based on complete truth," recalled. "I wasn't sure if I was incredibly hungry for meat itself, or if I was experiencing a lust, a thirst for flesh of unknown origins."
If there's any performer who can pull off this type of unconventional "hybrid of stand-up, storytelling and performance art," it's Scott. In some respects, "Meat" serves as a companion piece to "Everyday Rapture," the actress's similarly acclaimed 2010 Broadway show that was loosely based on her Midwestern upbringing and early years as a performer.
The positive reception "Meat" has received in both New York and London has only emboldened Scott to get even more daring onstage. Citing the help of musical director Todd Almond, Scott says audiences who check out the show in its current engagement will see a "Meat" that's been expanded -- and hopefully improved upon -- since its 2012 premiere, and is a departure from the big-scale musicals that made her a star.
"I want it to be a show that's more intimate, because I fear that, and isn't a theater piece," Scott, who hopes to preserve the show on film or on CD, noted. "What I'm experiencing as an artist is an entirely different experience, hopefully, that you're seeing as an audience member."
Sherie Rene Scott's "Piece of Meat" plays New York's 54 Below from June 17 through June 29. For more information, click here.
BEFORE YOU GO
PHOTO GALLERY
Tony Awards 2013