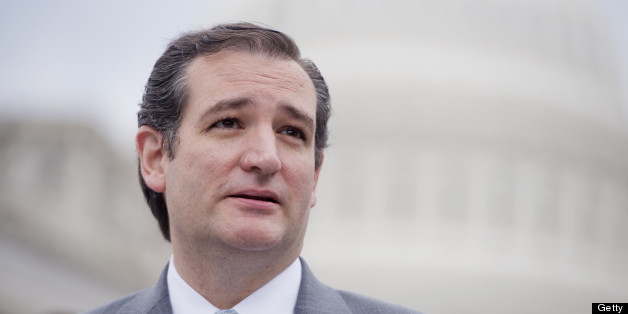 Sen. Ted Cruz (R-Texas) reportedly received threats from a man who said he would kidnap, murder and burn the tea partier and his father.
The Harris County District Attorney's Office said 37-year-old Nick Gates demanded $3 million from Cruz and his father, according to the Houston Chronicle. Gates now faces a felony charge for making a terroristic threat and is being held at the Harris County Jail in Houston under a $10,000 bail.
The Houston Chronicle reports:
An intern at Cruz's Austin office told investigators that a man called the office on June 5, saying that Cruz "owed him money or a bomb would explode," according to an arrest warrant filed in the case. The man, who identified himself as Abolfazi Akbori, called again the same day after the office had closed and left a threatening message on the office's voicemail system.

Another phone message was left at Cruz's San Antonio office containing threats that the caller "would kidnap, murder, and burn Ted Cruz and his father," the arrest warrant states.

The message states, "Ted has a choice. Give me three million dollars or lose the sun." The caller said that "due to government misconduct the sun would blow up and said he might be able to prevent the sun from blowing up if he receives three million dollars," according to the arrest warrant.
KPRC reports workers in Cruz's Texas and Washington, D.C. offices were given a photograph of Gates and made aware of his history, which includes a previous felony conviction for attempted retaliation after threatening a police officer that arrested him for drunk driving.
Cruz is one of several political figures to receive death threats in recent days.
Sheriff Joe Arpaio of Maricopa County, Arizona, received a death threat from a man who said he wanted to "personally blow" his "head off." President Barack Obama has received several death threats throughout his time in office, most recently in March when a man allegedly posted tweets that claimed he was "coming to kill" Obama and his family.
Click here for more from the Houston Chronicle.
BEFORE YOU GO
PHOTO GALLERY
Sen. Ted Cruz