The good news, if you are Florida Gov. and Plower of Flowers Rick Scott, is that the most recent Quinnipiac poll "found the Republican governor's job approval rating had climbed to 43 percent, with 44 percent viewing his job performance poorly." The bad news is that, despite the fact that Scott's approvals have climbed out of the cellar, the same poll found that "50 percent of voters surveyed still thought Scott did not deserve to be re-elected, compared with only 35 percent who did." So he remains a ripe target for the Democrats who want to pick him off.
But first those would-be Democratic contenders are going to spend some time picking on one another. Earlier this week, the News-Press reported that former Florida Chief Financial Officer Alex Sink, who was narrowly defeated by Scott in 2010, was letting it be known that she "hasn't ruled out taking another shot at Scott," but cited the recent death of her husband, former Democratic gubernatorial candidate Bill McBride, as a reason for hesitation.
Flash-forward to today, however, and suddenly Sink is opening up a can of whoop-ass all over former Florida Gov. Charlie Crist, who is also thought of as a presumed contender for the Democratic nomination. (The only announced candidate in the race for the Democratic nomination is Florida state Sen. Nan Rich, whom Eat The Press readers know as the American hero who fought to get an anti-bestiality law passed in the Sunshine State.)
In Sink's estimation, Scott and Crist are basically two sides of the same terrible coin. The Tampa Bay Times' inimitable Adam Smith has the report:
Sink will decide by Sept. 1, but she sounded nothing like a retired politician merely intent on keeping her name in the mix. She spoke angrily about the direction of the state under Gov. Scott -- "I mean, pick a day. Read the newspaper. This governor's incompetent" -- and was nearly as revolted by the prospect of Crist as the Democratic nominee.

"A disaster" is how she described the possibility.

The campaign against former Gov. Crist would be brutal, she said, noting the job losses during his term, flip-flops on issues, "plus all the stuff that hasn't been written about yet, about the Republican Party fiasco, about Jim Greer, about the party in the Bahamas," she said, referring to Crist's hand-picked GOP chairman, now in prison for stealing party funds and who was accused of hiring prostitutes at a fundraising retreat Crist attended.
Indeed, you'd be hard pressed to find a more tragic figure in American politics than Crist, who once imagined for himself a clear path to the U.S. Senate, until Marco Rubio arrived on the scene to dash that dream.
Crist's conversions from Republican to independent and now from independent to Democrat have been carried out with all the personal charm of "Arrested Development's" Buster Bluth shopping for a mommy. After his Senate defeat, there were a number of personal lows -- the apology to the Talking Heads, the whole Jim Greer catastrogasm, his setting up shop with the Morgan & Morgan law firm.
But the saddest moment of all came in September of 2012, when Crist decided that he wanted to get in on the hype being generated by then-campaigning President Barack Obama's trip to a Fort Pierce pizzeria, which led to a spontaneous "bear-hug" photo-op between Obama and Big Apple Pizza owner Scott Van Duzer.
Just a few hours after Crist told The Palm Beach Post Wednesday that he wanted to meet the man who lifted President Obama off his feet, Crist showed up at Van Duzer's Fort Pierce, Fla. pizza parlor.

"You know what I'm here for," Crist reportedly told Van Duzer, who proceeded to bear-hug the former governor in what was the business owner's third man-on-man embrace this week to attract national media attention.
It was awkward.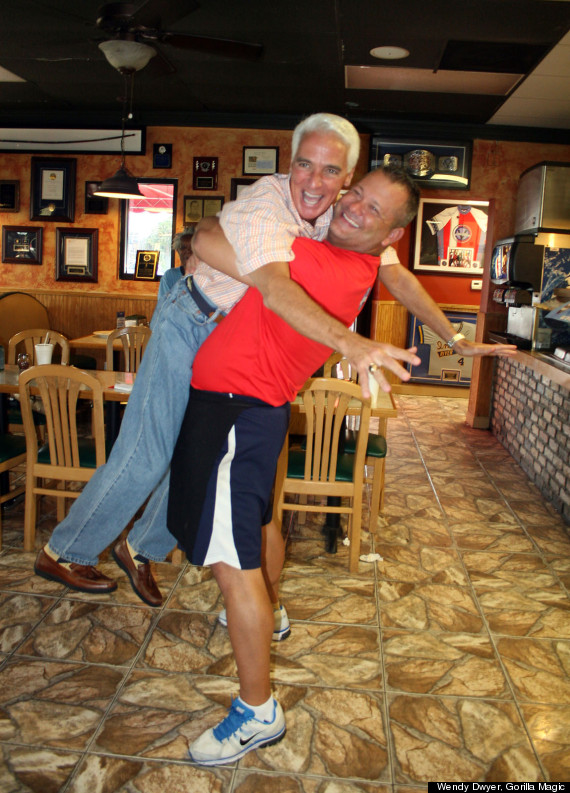 That is the apotheosis of Crist-inanity, right there: the combination of unabashed politico cravenness and the sad quest for any kind of "buzz."
So it's easy to understand why Sink might ponder the possibility of Crist as her party's statehouse standardbearer and feel a flood of bile rising in her gorge. Nevertheless, in Quinnipiac's hypothetical match-up between Crist and Scott, Crist is besting the incumbent by 10 points.
And Sink is still the candidate who couldn't beat Scott in the first place.
It's going to be a bumpy ride.
[Would you like to follow me on Twitter? Because why not?]
BEFORE YOU GO
PHOTO GALLERY
Political Look-Alikes