Cher took "The Voice" stage during Tuesday night's finale for a highly-anticipated performance (above) of her new single "Woman's World."
But when audiences saw the wig that Cher was sporting, the song took a back seat. Of course, outrageous headgear is nothing new for now 67-year-old Cher -- from her Native American headdress to her Ronald McDonald red locks, the legendary singer has been known for her daring cranial choices.
But the one she wore on "The Voice" had many befuddled. Was it some auburn and black cotton candy? Was it a black and a brown dachshund fighting atop her head? Was it some sort of muted cockatoo?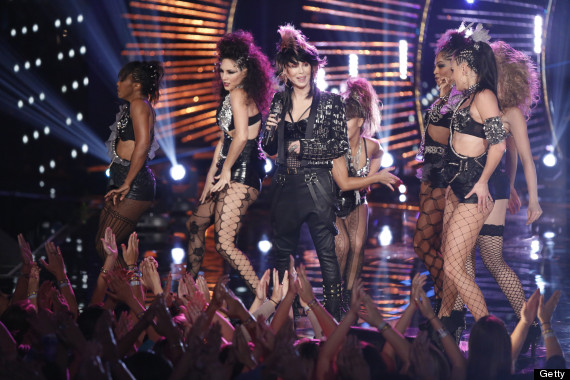 Even with strobe lights, a massive Iron Throne-like structure and a gaggle of scantily-clad dancers behind her, the only thing "The Voice" fans were talking about on Twitter was Cher's wig.
"Once I saw a car-flattened pigeon just off Washington Square Park that was being eaten by other pigeons like the pancake it had become. Cher's hair situation is almost as cannibalistic," Gawker's Rich Juzwiak wrote.
Other guesses included ...
@HuffPostTV The dead remains of Angry Birds having been taken over by Candy Crush. Clearly.

— Tracee Manettas (@TraceeM) June 19, 2013
I don't know what's on Cher's head but I'm willing to bet it came from the Endangered Species List. @NBCTheVoice

— Dennis (@dennisthecynic) June 19, 2013
Cher's wig on The Voice looks like it fought viciously to escape Donald Trump's wet dream.

— Mark Campbell (@MrWordsWorth) June 19, 2013
Omg. Which muppet did Cher kill for her wig last night?

— LadyB-Cicada Killer (@LadyBlueICU) June 19, 2013
I dreamed I was being chased by a meth'd out goth bigfoot. Then I realized it was just Cher's wig from #TheVoice last night so I'm cool.

— Lora Somoza (@LoraSomoza) June 19, 2013
And this comparison is just too good not to share:
This had to be made. #Cher reminded me of #Rufio from the movie #Hook with that wig last night on… http://t.co/KLlhBa7Mza

— Jimmy Cannon (@jcann311) June 19, 2013
But if Wig 1 wasn't enough to confuse Cher lovers and "Voice" viewers alike, the songstress changed it up for the post-finale photo call. Check her out below with 16-year-old Season 4 "Voice" winner Danielle Bradbery, donning a less animalistic, more Tina-Turner-meets-David-Bowie-in-"Labyrinth" look.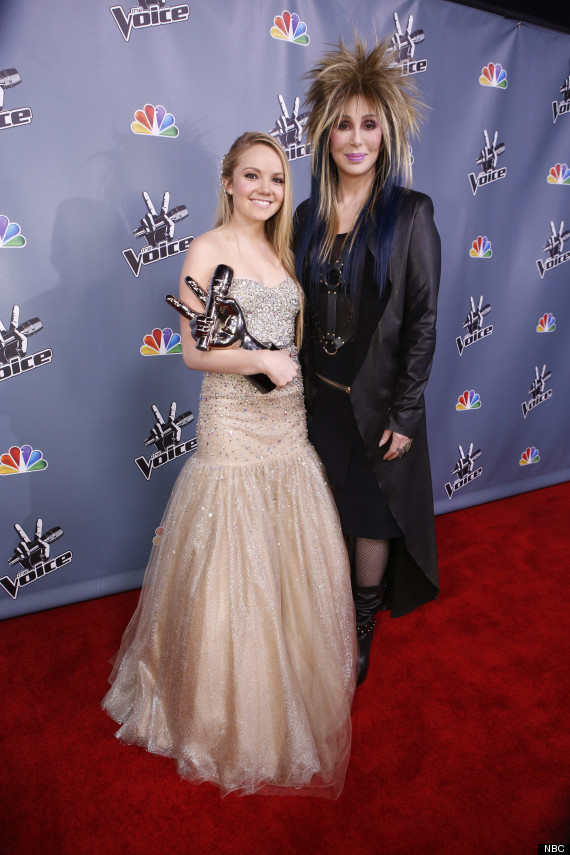 But Cher was more than happy to have fans chatting about her hair instead of her performance.
Ok ! Who wants to talk about my AMAZING HAIR !!! Lmao ! So many HILARIOUS DESCRIPTION !
Cher's wearing Puppies on her Head 👻

— Cher (@cher) June 19, 2013
HMMMM…. Seems There's MORE BUZZ,about the way I Looked,Than the way I Performed !!
YESSSSSSSSSSSSSSSSSSSSSSSIVE STILL GOT IT !!!👻!!!

— Cher (@cher) June 19, 2013
Tell us: Were you a fan of Cher's wigs? Which was your favorite? What do you think she was going for with Wig 1? Sound off in the comments!
PHOTO GALLERY
Cher Style Evolution