A poster designed to get English dog owners to pick it up is getting a crappy reaction.
The Bristol City Council recently attempted to get locals to pick up after their pooches by showing a preschool-age girl with what looks like chocolate smeared on her face and hands, along with a photo of what looks like dog doppings.
The caption to this magnum poopus reads: "Children will put anything in their mouths."
Not surprisingly, locals aren't exactly going gaga over the anti-poop poster, MSNnow.com reported.
Bristol residents are encouraged to pick up the poop or risk a fine of $1,566 U.S., according to the Metro. People who see lawbreaking are asked to report the scat-ignoring scofflaws.
One local asked the Bristol City Council via Twitter: "What were you thinking?' and a social media staffer tweeted back this rejoinder:
@SeaSeaCider @JRhodesPianist Shocking imagery, but perhaps it will help encourage a few more dog owners to do the responsible thing

— Bristol City Council (@BristolCouncil) June 17, 2013
The dog poop poster is also causing a stink in the U.S. from bloggers like Julie Ryan Evans of The Stir.
Although Evans understands the irritating qualities of dog poop, she is equally disgusted by the fact that the young girl's parents actually signed off on this modeling gig.
"I know some people want nothing more than to see their children as stars, but it shouldn't happen like this," Evans wrote. "A child this age has no concept of what she is doing, and for a parent to pimp her out for whatever reason as the 'dog poop girl' is just irresponsible."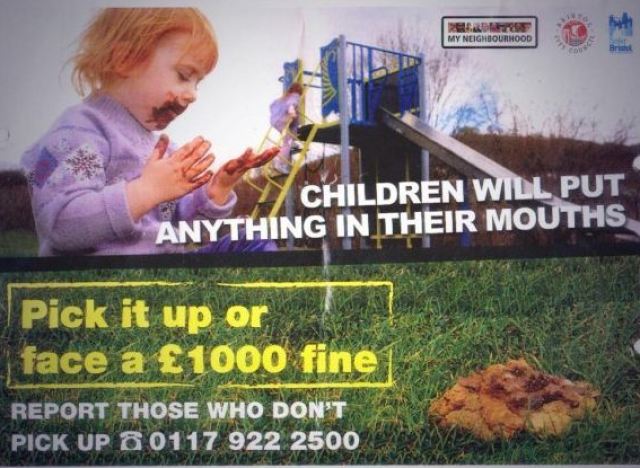 BEFORE YOU GO
PHOTO GALLERY
Weird News: Strange, But True