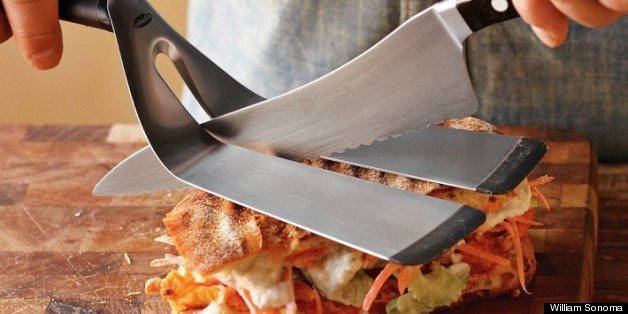 We've come across our fair share of dumb kitchen tools. From the Microwave S'mores Maker to the Fat Magnet, we almost don't even bat an eyelash when faced with completely worthless, totally unnecessary, space-hogging kitchen tools. But then there are some that are so bad, so completely idiotic, that we can't help but shake our hands up in the air and scream "WHY?!?!" The panini spatula made us do just that -- and not just once.
The Chef'n Panini Spatula, brought to us by Williams-Sonoma, "simplifies lifting even the largest sandwiches" -- because your hands or a regular spatula just can't get that job done. This special spatula was designed with "a stripe down the center of the handle [that] guides slicing" because again, your hands can't manage a simple task like cutting a sandwich in half.
If you like to fill your home with as many kitchen tools as possible, or if you have shaky hands, you'll be happy to know that this spatula will only set you back $19.95. But we think that money would be better spent on the summer's best ice cream instead.
Want to read more from HuffPost Taste? Follow us on Twitter, Facebook, Pinterest and Tumblr.
Check out the dumbest in grilling tools.
PHOTO GALLERY
Stupid Grilling Tools