A transgender woman was brutally assaulted in the early hours of May 31 as she walked home from her job in the Hollywood neighborhood of Los Angeles, and police are still looking for her attackers.
To aid in the search, the Los Angeles Police Department announced a $25,000 reward Tuesday for information leading to the arrest of the suspects. They also released surveillance footage of the attack (video above), which starts with a group of four men kicking someone on the sidewalk and then running away from the scene of the crime.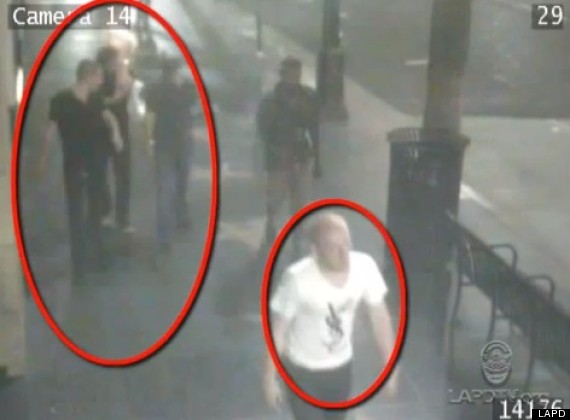 A still from the LAPD video on YouTube.
Footage from another vantage point shows the group of men walking after the victim, identified by police only as "Vivian," as they catch up to her. The men also appear to be talking to her before the assault.
Vivian's injuries were "very severe," said police, requiring a week of hospitalization. Anyone with more information about this case can email hollywoodcrimetips@gmail.com or call Hollywood division detectives at 213-972-2967. Check out LAPDOnline.org for information on how to reach out to police.
Virginia Diego, the victim's sister, revealed that Vivian sustained two fractured ribs, a shattered cheekbone and a broken jaw in an earlier interview with CBS2. She also put forth a motive for the crime.
"Sometimes men try to talk to him and they get humiliated in front of their friends when they realize it's a man," Virginia said to CBS2 in the video below. "Because he looks really good, he looks like a woman, you couldn't tell the difference ... He was basically left for dead just because of who he is."
EDITOR'S NOTE: The victim's family uses male pronouns and calls the victim "Victor," but also make reference to Vivian as a woman.
WATCH:
BEFORE YOU GO
PHOTO GALLERY
15 Things To Know About Being Transgender By Nicholas M. Teich