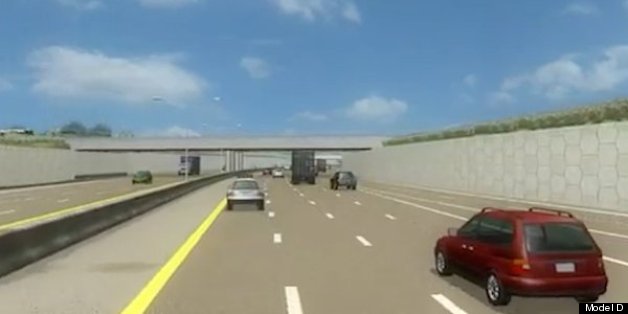 This op-ed previously appeared in the June 18, 2013 edition of Model D.
In two days, the Southeastern Michigan Council of Governments (SEMCOG) will be voting on its Regional Transportation Plan that includes a $2.7 Billion MDOT-sponsored project to widen I-94 through the heart of Midtown Detroit.
The expressway, which already provides a substantial barrier to economic development in New Center, would be widened from six lanes to 10. In addition, a two-lane continuous service drive would be added in each direction. In total, the expressway would grow from six lanes to 14 lanes in width.

While this may enable more cars to drive straight through Detroit, it actually makes it more difficult for Detroiters to get around. In total, eleven freeway crossings will be demolished and not replaced as part of this project. Examples of the crossings to be removed include the Third Street bridge over I-94, the John R bridge over I-94, and the Canfield pedestrian bridge that crosses M-10 near the I-94 interchange. Building a bridge across a wide expressway can be very expensive, and it appears MDOT has decided that maintaining the mobility of Detroiters did not justify the cost of replacing the bridges slated for demolition. This is especially interesting, as the $2.7 Billion dollar price of this project would seem to imply that no expense had been spared.

SEMCOG's proposed Regional Transportation Plan also includes a plan to widen I-75 through Oakland County. The combined cost of the I-94 and I-75 expansion projects is projected to be $4 Billion.
Just imagine what else could be done with $4 Billion:
During the State of the State address this year, Gov. Snyder made a very compelling case for why Michigan cannot wait to fix our crumbling roads and transportation infrastructure. The Governor went so far as to advocate for raising the gasoline tax to generate the funds required for repairing the extensive freeway system that already exists. In a climate of crumbling roads, unsafe bridges and utter lack of mass transit, I question why many of our leaders have still not come out against the I-94 expansion and other similar projects.
At a time when Michigan's roads are crumbling, why would we invest in additional freeway capacity? Detroit's population has fallen substantially since 1994 when this project was initially conceived. New freeway capacity is not needed or being requested by the city's residents. Even if the proposed widening would reduce congestion (which is debatable due to induced demand), a 2013 SEMCOG survey has demonstrated that the region's residents would prefer not to spend more to reduce traffic.
Not only is the I-94 expansion project an extraordinary misuse of taxpayer money, it also threatens the livability of Midtown, one of the great success stories of Detroit's comeback. Midtown residents – myself included – are attracted to a walkable environment where we can get to work, buy groceries, and go out without needing to use a car.
Watch this video created by MDOT to get a picture of the plan; here is a MDOT presentation in 2010 that shows lane cross sections at various locations; a page of a June 11 draft of Regional Transportation Plan gives project cost information about I-94 and I-75; and, finally, here is some general information about the project.
(Editor's note: Read more about the plan in Mode Shift - Move Together, a media partner of Model D.)
In my experience managing rental real estate in Midtown – a market where residential vacancy rates have plunged to below 5 percent – I can also tell you that massive freeways are not consistent with what new residents are seeking.
Please join me in spreading the word about these freeway expansion projects to your friends, family and elected representatives. SEMCOG's meeting to vote on the Regional Transportation Plan will be held at 4:30 p.m. this Thursday, June 20 at the Atheneum Suite Hotel in Greektown. Public comments will be heard before the vote and there will be a rally in opposition to this project beginning at 3 p.m. outside of the hotel.

Read more Detroit development stories at Model D.