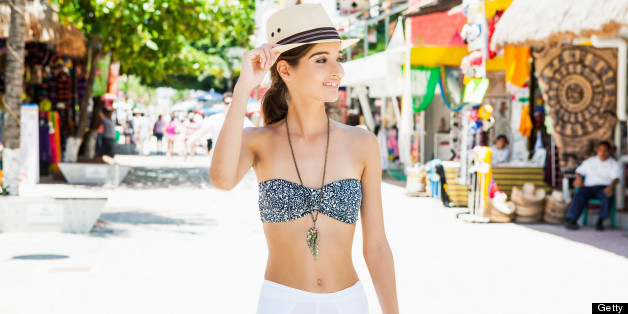 No shirt? Big problem.
One coastal town in southern Italy is taking offense with the number of residents and tourists who are walking around in their skimpy swimwear. So to combat the problem, the Italian town instituted a bikini ban, barring anyone from showing too much flesh in Vietri Sul Mare outside of the beach, local publications report.
The restriction against bikinis and bare chests was first introduced in 2010. However, Vietri Sul Mare's mayor Franco Benincasa decided to reaffirm the law and threat of a hefty fine in order to protect the town's decorum. Offenders who are caught flaunting an unreasonable amount of bare skin on streets, in public spaces and, primarily, within the section of Marina, will face a fine of up to 500 euros (about $670).
Enforcing the law is essential "for the area's image," town spokeswoman Andrea Pellegrino told Italy's The Local.
Vietri Sul Mare's ban is not entirely unheard of for the tourist-heavy area. In 2010, another coastal town in the region passed a similar ban, outlawing "very skimpy clothes."
BEFORE YOU GO
PHOTO GALLERY
Can These Men And Women Save Italy?