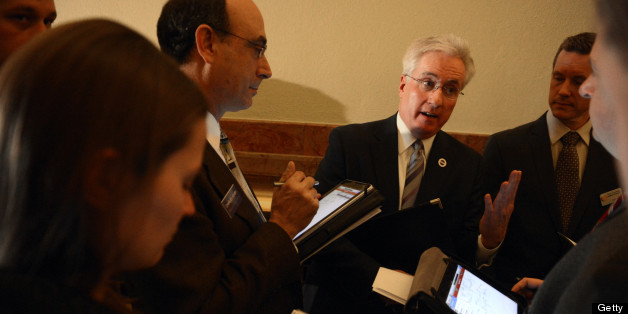 The first-ever recall election of a lawmaker in Colorado history is moving forward after the secretary of state's office announced that organizers submitted more than enough valid signatures from voters upset with his support for the passage of this year's gun control laws.
Organizers were required to submit 25 percent of all the votes cast in the previous election for Democratic Senate President John Morse's (Colorado Springs, district 11). That would equate to 7,178 valid signatures, and recall proponents were able to turn in a total of 10,137 valid signatures from the rough total of 16,200 that were submitted.
Per Colorado law, Morse has 15 days to contest the results, but Morse's lawyers announced almost immediately that they would be challenging the petitions.
One of Morse's attorneys, Mark Grueskin, argues that the petition never called for an election to fill his seat, and that that language is required by Colorado law.
"This isn't some technicality or loophole. This is a critical piece of information that the proponents of this petition decided not to impart to petition signers," Grueskin told 7NEWS.
Earlier this month a gun rights group, the Basic Freedom Defense Fund, delivered a petition with more than 16,000 signatures (they only needed around 7,000) to the Secretary of State's office asking to recall Senate President Morse for his support of a gun control package that Colorado Gov. John Hickenlooper signed into law earlier this year including expanded background checks to include all private gun sales and transfers and a 15-round limit on ammunition magazines.
Morse also backed a measure that would hold gun manufacturers and sellers legally liable in some cases for damage caused by their weapons, however he eventually dropped the bill when it appeared that it didn't have the votes in the Senate to pass.
In early June, shortly after the recall effort went underway, Morse tweeted that his support of the gun bills had to be done.
The AP reported that the National Rifle Association got involved with the recall effort and sent a political mailer saying it was coordinating the effort with local groups, however local recall petitioners denied that the NRA was involved in any way.
"I ran this campaign. The NRA did not run this campaign," said Rob Harris, organizer of the recall effort, to the AP. "We the people are making a stand against the people who refused to represent their constituents."
A Morse-supporter group called A Whole Lot of People for John Morse claims that many of the petition signatures gathered were obtained fraudulently and that outside interest groups paid workers to gather signatures, CBS News reported.
According to the Gazette, since the recall effort was started, it has felt like election season for Morse's district with signature gatherers, radio ads, robocalls, polls and a total of almost $40,000 raised for both supporters and opponents of Morse.
Sen. Morse was recently even asked to sign the petition to recall himself at a local supermarket, 9News reported. "I said no, really, I am John Morse. And I pulled out my wallet and showed my driver's license so that he could see that I wasn't making it up," Morse said.
Morse told KDVR that he understands that his recall is only partially about him, and that it's also symbolic. "It's a litmus test," Morse said and added that he believes the success or failure of the recall effort will be interpreted as a referendum on gun control. "There doesn't seem to be any question that money's coming from outside the state to say, look, if you do this, we can take out the Senate president -- we can take out anyone across the entire country if you decide to implement common-sense gun legislation."
Senate District 11 is split almost evenly among Democrats, Republicans and independent voters, and as the Colorado Gazette has pointed out, it's not the exact same district anymore.
Redistricting in 2011 added slightly more Democratic voters to Morse's district, and the recall effort could move to court before making it onto the ballot.
The secretary of state's office has 30 days to rule on Morse's challenge and that decision could be appealed in court. If the challenges are unsuccessful, a recall election could be held as early as August.