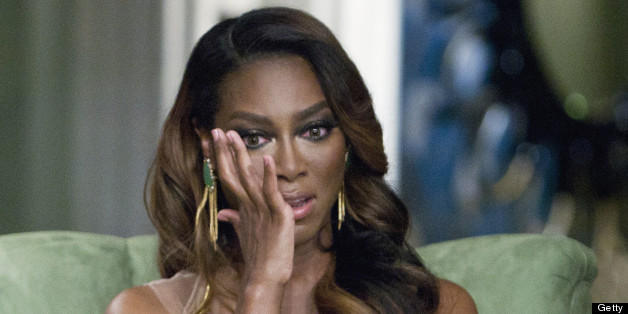 It appears Kenya Moore really is 'gone with the wind' -- though maybe not so fabulous -- as she has officially been blown from her rented mansion in Roswell, Georgia, RadarOnline reports.
According to the celebrity news and gossip site, a Fulton County judge has ruled in favor of the reality star's landlord, Conya Weems-Dillon, to evict her from the property after Moore failed to make an appearance in court on Tuesday to respond to Weems-Dillon's complaint. RadarOnline reports that Moore was short $848 on her $3,999 rent for the month of May and also defaulted on unspecified terms and conditions on the six-bedroom, six-bathroom mansion.
Following her victory, Moore's now-former landlord told RadarOnline:
"The decision to file this eviction notice regarding Ms. Moore was reached after pursuing every possible amicable way to settle this matter privately. I am grateful that the judicial system has brought finality to this eviction process and I look forward to regaining possession of my home."
The 42-year-old filed a countersuit earlier this month, citing wrongful eviction, slander and emotional distress against Weems-Dillon, but RadarOnline reports that the judge has dismissed the lawsuit.
This unfortunate eviction news now means that fans will have to miss out on Moore's curious Twitpics of the property and the random birds that roamed her former front yard.
Can someone pls tell me what the hell is this in my front yard? @VelvetTheDog is going nuts pic.twitter.com/F3krmZP6LR

— KENYA MOORE (@KenyaMoore) June 9, 2013
PHOTOS:
PHOTO GALLERY
Kenya Moore Photos