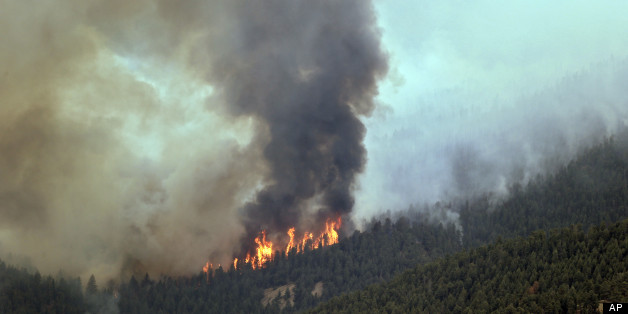 A new Colorado wildfire in Jefferson County has prompted a level-three evacuation for residents.
Residents within a three-mile radius of the Lime Gulch Fire are being asked to leave immediately.
The Jefferson County Sheriff's Office tweeted a map of the area being evacuated Wednesday afternoon with instructions for people in the area to "leave immediately."
3 mile #ChairRockFire evac is centered at GPS 39.43635,-105.234953 CodeRED alert sent to gray area on this map pic.twitter.com/j9wGhuKPMQ

— Jeffcosheriffco (@jeffcosheriffco) June 19, 2013
Emergency notifications were sent out to 410 phones in the area while authorities have also been going door-to-door to evacuate residents. According to the sheriff's office, Evergreen High School is currently acting as an evacuation shelter and authorities are in the process of ordering a Single Engine Air Tanker (SEAT) and a couple of helicopters to help them combat the fire.
#ChairRockFire from SKY9: http://t.co/fipLdGgZY6. @KyleClark & @KathySabine9 on #9NEWS. PHOTO: pic.twitter.com/9N0i2RltJj

— 9NEWS Denver (@9NEWS) June 19, 2013
According to The Denver Post, residents may take their large animals to the Jefferson County Fairgrounds while other small animals may be taken to the Foothills Animal Shelter.
Around 4 p.m. on Wednesday, the level-three evacuation order was expanded to include the area of Buffalo Creek Township.
According to a report by the Associated Press, the new fire began in an area of the Pike National Forest about 30 miles southwest of Denver. The same was hit last year by the Lower North Fork Fire, which had grown from a prescribed burn to destroying over 20 homes and left three people dead.
The cause and size of the Lime Gulch Fire was unknown as of Wednesday evening, but the U.S. Forest Service is estimating that it is 500 acres and growing.
This entry has been updated to reflect the name change of the wildfire to "Lime Gulch." It was previously named the "Chair Rock Fire," but was renamed the same day it broke out by the U.S. Forest Service.
BEFORE YOU GO
PHOTO GALLERY
Lime Gulch Fire